Pierre the Gambler-Dice (Gx)Deck
Deck Information
Deck Type:
Anime Decks
Deck Master:
Gatling Dragon
TCG/OCG:
Tcg
Submission Date:
February 22nd 2019
Author:
sam50
YGOPRODeck File Download
Pierre the Gambler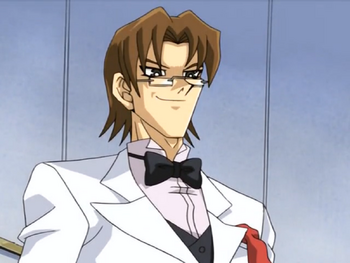 Pierre the Gambler, known in Japan as Mitsuo ( Mitsuo) is Alexis Rhodes' childhood classmate and a world famous gambler, having mastered games from blackjack to poker.
In primary school, Pierre would play games of chance with other students, always having them bet their prized possessions. After losing a game of Duel Monsters to Alexis, he steals her red hankerchief, which had been bet on the Duel.
Years later, he arrives at Duel Academy where he asks Chancellor Sheppard and Vellian Crowler to let him duel Alexis. When they turned him down, he ended up taking out the Duel Academy security team that Chancellor Sheppard summoned until Alexis arrives agreeing to the duel. He finally duels with Alexis, but loses. In the end, it is revealed he actually has a crush on Alexis and returns the handkerchief to her. However, Alexis does not return these feelings and Pierre then leaves with Jaden Yuki trying to bid him farewell in the right way.