Deck Information
Deck Type:
Anime Decks
Deck Master:
Mayosenju Daibak
TCG/OCG:
Tcg
Submission Date:
December 24th 2018
Author:
sam50
YGOPRODeck File Download
Yosenju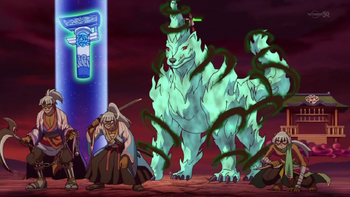 "Yosenju" (Yōsenjū), also referred to as the "Spirit Samurai", is an archetype of WIND monsters used by Sylvio Sawatari in the Yu-Gi-Oh! ARC-V anime. All members of this archetype are Beast and Beast-Warrior monsters, except for the Rock "Yosenju Shinchu L" and "Yosenju Shinchu R".

Normally, they confine themselves in deepest depths of stormy mountains training themselves, but once a month each year, they cause a great storm that descends to the lands below. People recognize their power as a natural phenomenon that transcends human understanding.
"Number" (Japanese: No. Nanbāzu, "Numbers") is an archetype of Xyz Monsters that are the focus of the story in the Yu-Gi-Oh! ZEXAL anime and manga series. Each "Number" monster has a corresponding natural number included at the start of its name after "Number" (and occasionally a letter, such as C).