World Legacy-Traptrix deck
World Legacy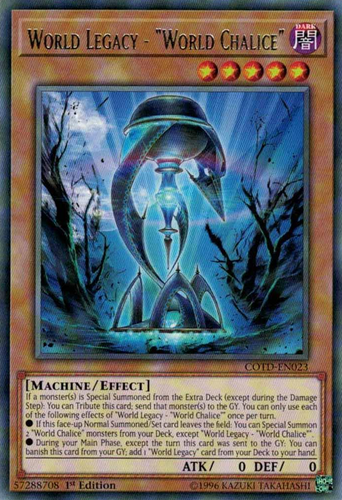 "World Legacy", known as "Star Relic" (Seiibutsu) in Japanese, is an archetype of DARK Machine monsters introduced in Code of the Duelist. It is related to, as well as supports, the "World Chalice", "Krawler", "Mekk-Knight", "Knightmare", "Crusadia", and "Orcust" archetypes, as well as the "Guardragon" series.
According to the flavor text of "Chosen by the World Chalice", there are seven of them, each of which correspond to one of seven archetypes or series as shown in the table below.
Traptrix
"Traptrix" (Kowakuma) is an archetype of Level/Rank 4 EARTH monsters that debuted in Judgment of the Light.
"Traptrix Trap Hole Nightmare" is not a "Traptrix" card because it does not have in its Japanese name.