Trinity Format – August 2018 Trinity Cup Top 4 Deck Profiles
The August 2018 Trinity Cup Top 4 were:
1st: AsuiKitsune
2nd: guiltygearxx
3rd-4th: ToadalGear
3rd-4th: srn347
1st Place: AsuiKitsune's Subterror Shaddoll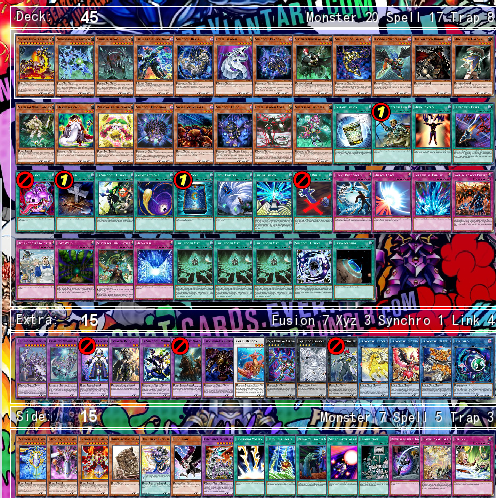 Why did you choose to run your deck?
Because I have an unhealthy love for Subterrors.
What was your deckbuilding philosophy when making this deck?
Gain as much advantage as possible while controlling my opponent.
What were some of your tech choices and "trinities?"
I played the Cyber Dragon engine so that I could have lights to send for the summon of Construct. It was also a way to out Sky Strikers and Zoo XYZ. My trinities were the mandatory Shaddoll Fusion so I could play Shaddolls. I also ran extra Hidden Cities + Terraforming because Subterrors were the main control part of my deck.
How did you prepare for the meta, and would you change anything going forward?
Cyber Dragons were what I used to deal with Zoodiac Whiptail since it was one of my bigger problems. I played a lot of grave hate to stop Infernoids which I was the most scared of. I would definitely cut the Timelords since the deck is too reliant on normal summoning. They also didn't net me enough advantage in return for making minimal plays that turn.
Is your deck still playable in the current format?
The deck is still easily playable with no changes on the September list. It should be even better after some tweaks.
2nd Place: guiltygearxx's SPYRAL Trickstar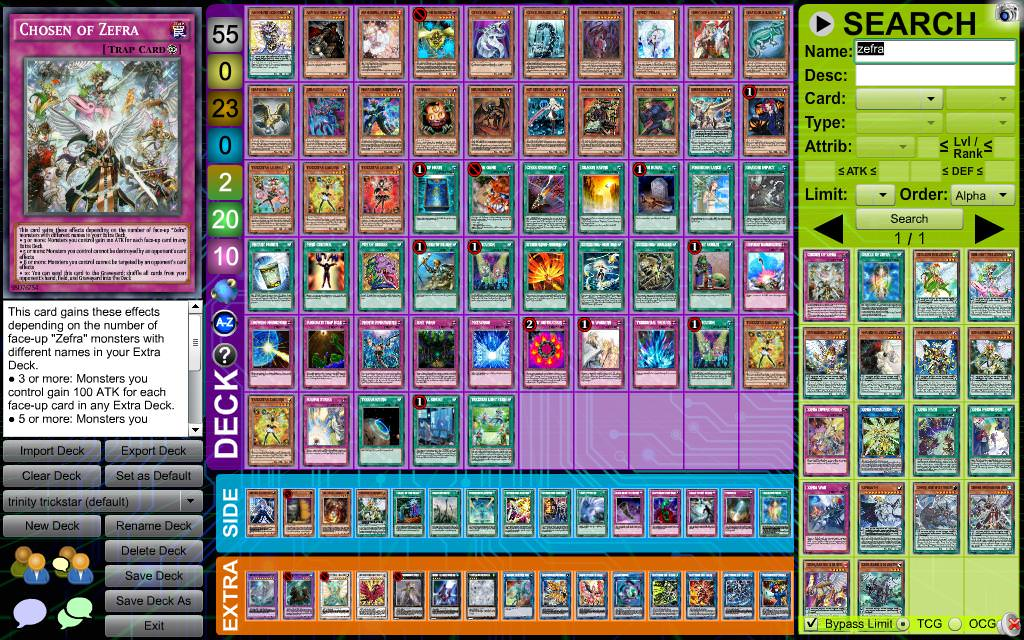 Why did you choose to run your deck?
Trickstars are a great compact engine that can nullify set spells and traps while being able to deal up to 4200 damage off one card. I wanted the rest of my deck to focus on obtaining easy answers and card value to clear the way for damage potential.
What was your deckbuilding philosophy when making this deck?
I like to maximize on starters that have engine requirements. Since the other Trickstar monsters are engine requirements to Trickstar Candina, I used some trinities to make Candina a bigger focus. Multiple Candina allows me to also use rank 4s while having a Candina in hand for next turn. The rest of the deck focuses on utilizing my field spell searchers to get value off of strong field spells. I also padded out my deck with different card suites that each provided value or disruption independently of each other. This allowed me to reliably handle different scenarios.
What were some of your tech choices and "trinities?"
Set Rotation is a card I have always been a proponent of. I opted to use a trinity on it so that I would have an edge in field reliant matches. I struggled between playing Dark Hole or Solemn Strike and ended up choosing Strike because the deck needed more resilience against aggressive strategies.
How did you prepare for the meta, and would you change anything going forward?
The deck is best against control oriented strategies because of Light Stage and the lack of commitment needed for most of the monster engines. Against aggro decks, it can struggle to stop multiple threats in time. I sided some additional traps that could slow down bigger commitment decks. Oracle of Zefra was a fairly good Rotation target that I think would have been even better if mained.
Other side choices were Spell and Trap hate and graveyard disruption. Some underperforming cards were the Graydles. While carried by Graydle Impact, they're underpowered individually. The Ravine/Destrudo/Ancient Fairy Dragon engine was also a deckbuilding trap that was generally not worth it. I mainly included it as a field spell option but going forward I will simply use Dragon Shrine for Mana Dragon Zirnitron instead.
How were your matchups?
I mostly wanted to avoid aggro matchups and for the most part succeeded. Almost every match came pretty close with few blowouts. I played against Dino Rabbit, Flip, R4nk, Infernoid, Dragons, Pendulum (twice), Graydle control and finally Flip. I struggled most against Pendulums, Infernoid and Flip.
The first time against pendulums I could not produce enough answers to his aggro strategy, but the second time I managed to see enough answers. The games against Infernoids were for the most part winnable. They came down to some good resource usage, however game 3 I had to face down a full Void Feast field and couldn't win. Flip is interesting since most reliable removal is less effective on them. This leads to an ability to accrue advantage and occasionally drop bombs. However, in the finals I did not see enough usable answers to deal with my opponents offense.
Is your deck still playable in the current format?
Nothing really changes about the deck except a need to reconfigure the way trinities are used. Ledger of Legerdemain may also be a good inclusion. Personally, Set Rotation performed well so I would opt to use trinities on that over Candina as well as moving Oracle of Zefra to the main.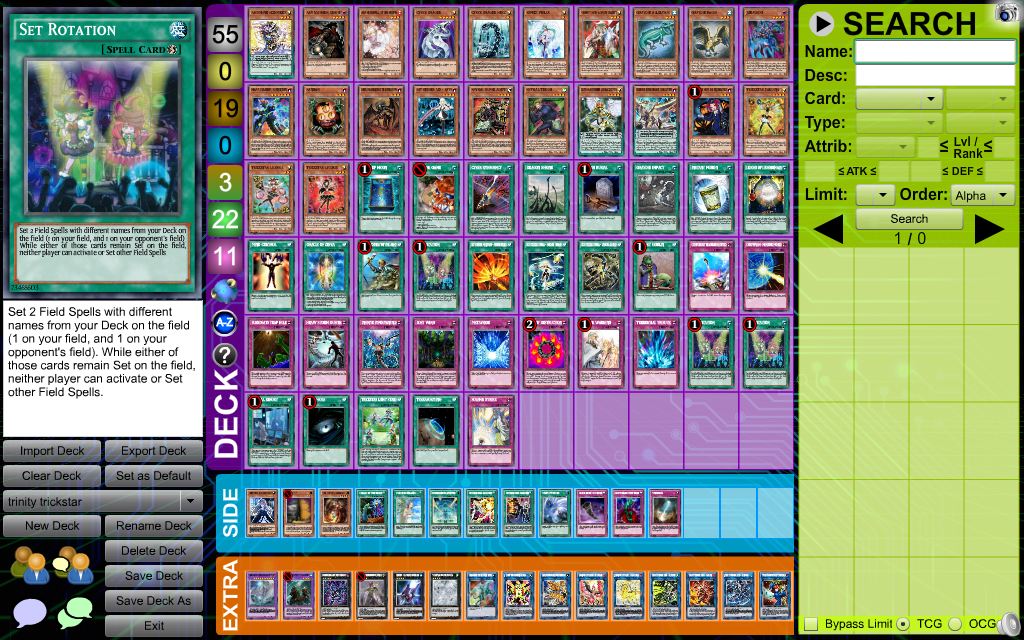 3rd-4th: srn347's Goodstuff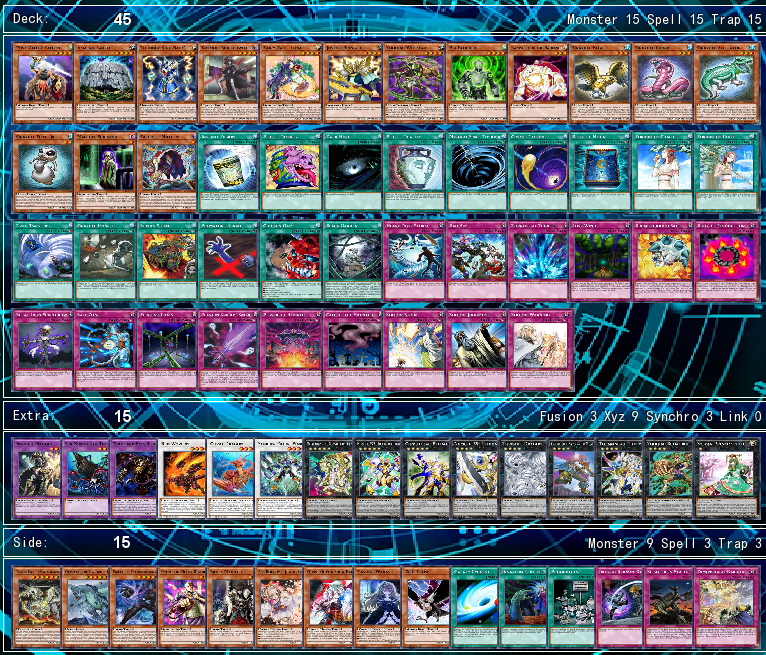 Why did you choose to run your deck?
I enjoy playing my good cards deck (AKA Goodstuff). I know that it tends to perform well and results in fun and interactive games. Also I enjoy tweaking it a bit each format, finding new techs and stuff.
What was your deckbuilding philosophy when making this deck?
As you may recall from before (as you can see in my profile from January), I rarely play "monster mash" or "set 5" decks. I tend to have a reasonable amount of both monsters and backrow in my decks, as well as the lowest number of "Garnets" possible. I do, of course, do a reasonable amount of testing. I tend to keep cards that do well and remove ones that under-perform.
What were some of your tech choices and "trinities?"
Admittedly most of my trinities (or rather, half-trinities) now are what they were in the previous tournament I topped, albeit rearranged. Fairy Tail – Luna, Magical Scientist, and Eater of Millions have done way too well to ever be removed. The Heavy Storm Duster and Solemn Judgment got rearranged. Storm duster is now unlimited and Solemn Strike is Co-Forbidden. One noticeable change, however, is that following Snatch Steal being moved from co to semi-forbidden, and Dark Hole from semi to co, I now run dark hole instead of Snatch Steal. It's a decent board clear and I don't regret the change.
Some unique non-Trinity tech choices worth pointing out would be Black Garden. It significantly slows the pace of the game and punishes the opponent for repeatedly summoning. It also makes my already face-up monsters harder to run over. Finally there's Graydle Slime Jr., which isn't part of the standard Graydle package. It is, however, able to summon a Graydle on both summon and death. This extends Graydle Impact's value even further.
How did you prepare for the meta, and would you change anything going forward?
Ghost Bird of Bewitchment and Spiritual Beast Tamer Winda are no longer in the deck. They were merely for ATK points and for the most part I don't recall losing to high ATK points instead of effects. In accordance with this, Justice Bringer was added as running out of negation and losing to effects of (usually special summoned) monsters was something that could and sometimes would happen. The side deck cards are intended to cover as many decks as possible, by being answers to general types of decks rather than specific decks. For example, Skull Meister, D.D. Crow, and Different Dimension Ground are all side cards for literally ANY graveyard deck. If it was Lightsworns specifically I wanted to side for, I'd use Light-Imprisoning Mirror (if it weren't banned).
How were your matchups?
My worst matchup was definitely still Pendulums. It becomes quite difficult to deal with the never-ending value they generate from not only the pendulum summoning mechanic, but also the amount of +1 searches and recurring removal from Eccentrick and Purple Poison Magician. Some of my best matchups, on the other hand, were ones where the opponent's deck ran few (if any) backrow. Non-pendulum monster-heavy decks tend to give my deck more control than the opponent would like to, as I can feel free to make power plays such as Magical Scientist or Eater of Millions undisrupted.
Is your deck still playable in the current format?
It sure is! There's no shortage of good cards in the cardpool, and Trinity is a slow enough format to where a value-oriented deck such as this one can continue to thrive (this would never work in TCG or OCG). Additionally, the data indicates the deck does well as it did retain a pretty good winrate throughout the tournament.
I will probably take out the Chicken Game as I frequently sided it out due to not wanting the opponent to have more cards. I'm not sure what deck they'd have to be playing for me to not care if they have more cards. Safe Zone is also a card I'm considering removing, as it has done surprisingly little and almost never gets to either chain to backrow removal (destroying an attack position monster) or combo with Mist Valley Falcon for infinite removal. As for what I'll add, I'll likely seek out some means of draw power that goes plus. It is entirely possible I'll fail to find the generic draw power and just replace them with better backrow, removal spells, or value monsters however.
3rd-4th: ToadalGear's Infernoids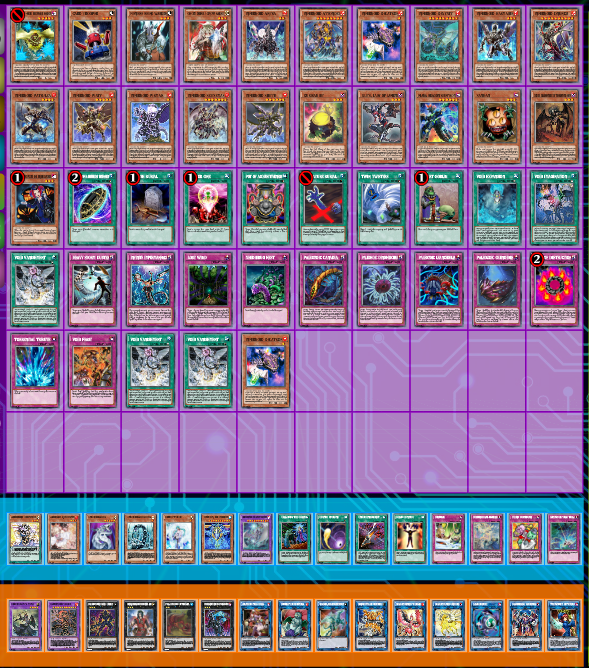 Is your deck still playable in the current format?
Infernoids took the heaviest hit of any archetype on the September 2018 Forbidden list. The big change was Void Vanishment being put to Co-Forbidden. Because of this, Infernoids took a huge consistency hit despite already having consistency issues. While the deck can still be played, it will open brick hands even more than it did before.
Latest posts by meepmoto27
(see all)