Darklord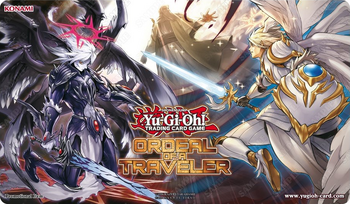 "Darklord", known as "Fallen Angel" (Datenshi) in the OCG and the French version, is an archetype comprised primarily of DARK Fairy monsters, except for "Darklord Marie", which is Fiend type. Although members have been used by characters like Rebecca Hawkins and Fonda Fontaine, Midori Hibiki in the Yu-Gi-Oh! GX manga is the only dedicated user of the archetype. Many of their effects are focused on sending "Darklord" monsters to the Graveyard and then Special Summoning them. Much of this archetype have been released as V Jump promotional cards.
Though members have existed since 2008, this archetype had no support until the release of Booster SP: Destiny Soldiers in the OCG and Destiny Soldiers in the TCG, both in 2016.
"Number" (Japanese: No. Nanbāzu, "Numbers") is an archetype of Xyz Monsters that are the focus of the story in the Yu-Gi-Oh! ZEXAL anime and manga series. Each "Number" monster has a corresponding natural number included at the start of its name after "Number" (and occasionally a letter, such as C).