Raidraptor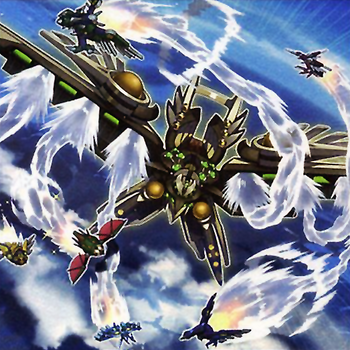 "Raidraptor", known as "Raid Raptors" (Reido Raputāzu) in the OCG, is an archetype of DARK Winged Beast monsters used by Shay Obsidian in the Yu-Gi-Oh! ARC-V anime and manga. They made their debut in Secrets of Eternity.
Appearance

"Raidraptor" monsters resemble various genus and species of birds of prey, albeit with a mechanized appearance and equipped with weaponry. Most of the Level 4 monsters (with the exception of "Raidraptor - Necro Vulture") are based on the lanius, a genus of passerine birds in the shrike family, while most of the Extra Deck monsters are based on falcons. Additional monster support includes cards based on vultures, eagles, and strixes, a genus of earless owls. The Level 3 and Rank 3 monsters are based on eagles, while the members based on vultures and strixes cover a wide range of Levels and Ranks. This naming pattern can be likened to codenames of different members belonging to the same military unit.
All "Raidraptor" monsters display the Raidraptor crest somewhere on their bodies. The crest itself is also used to represent their various "Rank-Up Magic" Spells.