Tetsu Sector Security-security deck
Deck Information
Deck Type:
Anime Decks
Deck Master:
Montage Dragon
TCG/OCG:
tcg
Submission Date:
December 31st 2018
Author:
sam50
YGOPRODeck File Download
Tetsu Trudge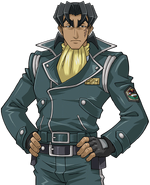 Tetsu Trudge, known as Tetsu Ushio in the Japanese version, is a Hall Monitor at Domino High School in Yu-Gi-Oh! and a member of Sector Security in Yu-Gi-Oh 5D's.
Cannot be Normal Summoned/Set. Must be Special Summoned (from your hand) by sending 3 other monsters from your hand to the Graveyard, and cannot be Special Summoned by other ways. This card's ATK becomes the combined original Levels of the sent monsters x 300.
"Number" (Japanese: No. Nanbāzu, "Numbers") is an archetype of Xyz Monsters that are the focus of the story in the Yu-Gi-Oh! ZEXAL anime and manga series. Each "Number" monster has a corresponding natural number included at the start of its name after "Number" (and occasionally a letter, such as C).