Lightsworn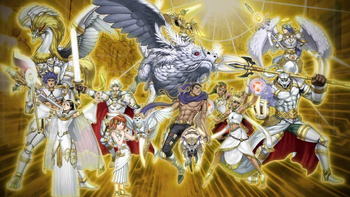 "Lightsworn", known as "Lightlord" (Raitorōdo) in the Japanese, Korean OCG and French TCG, is an archetype of LIGHT and DARK monsters introduced in Light of Destruction. The LIGHT monsters' primary effects involve self-milling, which sends cards from the top of your Deck to your Graveyard, either as a cost to activate their effect(s), or as part of the effect(s) itself. Contained in the "Twilightsworn" sub-series, the DARK monsters operate on a similar principle, but also banish "Lightsworn" monsters as the costs for their effects.
Deck List
Monster
Judgment Dragon x1Punishment Dragon x1Celestia, Lightsworn Angel x1Gragonith, Lightsworn Dragon x1Aurkus, Lightsworn Druid x2Ehren, Lightsworn Monk x2Felis, Lightsworn Archer x2Garoth, Lightsworn Warrior x2Jain, Lightsworn Paladin x2Jenis, Lightsworn Mender x2Lumina, Lightsworn Summoner x2Lyla, Lightsworn Sorceress x2Minerva, Lightsworn Maiden x2Raiden, Hand of the Lightsworn x2Rinyan, Lightsworn Rogue x2Ryko, Lightsworn Hunter x2Shire, Lightsworn Spirit x2Wulf, Lightsworn Beast x2
Traps
Vanquishing Light x2Lightsworn Judgment x2Lightsworn Barrier x2Light Spiral x2Glorious Illusion x2
Spells
Pot of Avarice x1Twilight Twin Dragons x2Solar Recharge x2Realm of Light x2March of the Dark Brigade x2Lightsworn Sanctuary x2Lightsworn Sabre x2Charge of the Light Brigade x2
Extra
Michael, the Arch-Lightsworn x2Minerva, the Exalted Lightsworn x2Curious, the Lightsworn Dominion x2Judgment, the Seraphic Dragon x2
Id
"Number" (Japanese: No. Nanbāzu, "Numbers") is an archetype of Xyz Monsters that are the focus of the story in the Yu-Gi-Oh! ZEXAL anime and manga series. Each "Number" monster has a corresponding natural number included at the start of its name after "Number" (and occasionally a letter, such as C).