Deck Information
Deck Type:
Anime Decks
Deck Master:
Bracchio-raidus
TCG/OCG:
Tcg
Submission Date:
December 28th 2018
Author:
sam50
YGOPRODeck File Download
Rex Raptor
Rex Raptor, known as Dinosaur Ryuzaki in the manga and Japanese anime, is a Dinosaur Duelist. Despite his introduction as a powerful Duelist, he becomes a source of humiliation along with his companion, Weevil Underwood, after suffering defeat to Joey Wheeler, and begins considering Joey his rival for this reason. He is also briefly the companion to Mai Valentine, as she was trying to use him to get her revenge on Joey for defeating her. Though Rex is vindictive, arrogant, and tyrannical, he plays fairly unlike his cheating companion Weevil, and he forfeited his rarest and most prized card "Red-Eyes B. Dragon" to Joey after he lost it fair and square when he anted it in the hopes that he'd win Joey's "Time Wizard" should he lose, as he was planning on double-crossing Mai by using Time Wizard to defeat her, as his own form of revenge against her.
Dinosaur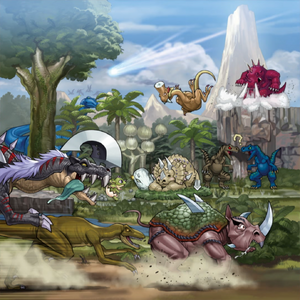 Dinosaur (Japanese: Kyōryū) is a type of monster that primarily relies on brute strength, and sometimes Monster Effects, to help a Duelist prevail in a Duel. There are many high-level Dinosaur-Type monsters, so the general strategy for them is to Summon their high-Level monsters as quickly as possible using cards like "Hunting Instinct" or "Big Evolution Pill", overpowering the opponent's weaker monsters before they have a chance to defend themselves. Dinosaurs are predominantly EARTH-Attribute monsters (most of those that are or resemble Pterosaurs are WIND), but the release of the "Jurrac" Archetype led to a surge of FIRE Dinosaur-Type monsters, continued with the "Evolsaur" archetype, "Number 61: Volcasaurus", and "Pyrorex the Elemental Lord". Dinosaur cards are most notably played by Rex Raptor, Tyranno Hassleberry, Scorch and Chills.
"Number" (Japanese: No. Nanbāzu, "Numbers") is an archetype of Xyz Monsters that are the focus of the story in the Yu-Gi-Oh! ZEXAL anime and manga series. Each "Number" monster has a corresponding natural number included at the start of its name after "Number" (and occasionally a letter, such as C).