Performapal Pendulum Deck
Performapal
https://youtu.be/xSI9redRLO4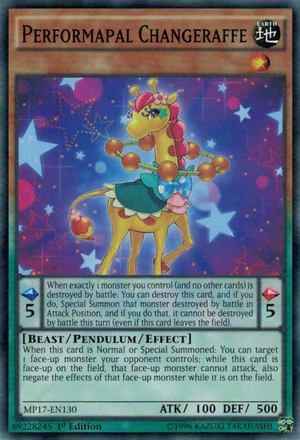 Playing style
"Performapal" monsters possess varied effects giving the archetype a lot of versatility. Many of the weaker monsters possess strong effects that work well when used together. Monsters like "Cheermole" and "Sword Fish" can manipulate ATK and DEF permanently in large increments and continue to do so if they can remain on the field while others like "Fire Mufflerlion" and "Spikeagle" grant bonuses for attacking by providing a second attack for one of your monsters and piercing damage respectively.
As the first Pendulum Monster archetype, "Performapal" features a large number of Pendulum Monsters designed to make the most out of the Pendulum Zones. "Silver Claw" is a powerful beater in the Monster Card Zone that boosts all "Performapal" monsters' ATK when in the Pendulum Zone. "Pendulum Sorcerer" boosts all "Performapal" monster's ATK by 1000 during a turn when the player Pendulum Summons. "Skullcrobat Joker" and "Odd-Eyes Unicorn" offers the highest Pendulum Scale of the archetype (8), with the effect of "Skullcrobat Joker" allowing to add a "Performapal" monster, a "Magician" Pendulum Monster, or an "Odd-Eyes" monster from the Deck to the hand with its effect, while "Odd-Eyes Unicorn" gives a boost in ATK to a selected target with its Pendulum Effect and helps recover LP with its normal effect.
"Number" (Japanese: No. Nanbāzu, "Numbers") is an archetype of Xyz Monsters that are the focus of the story in the Yu-Gi-Oh! ZEXAL anime and manga series. Each "Number" monster has a corresponding natural number included at the start of its name after "Number" (and occasionally a letter, such as C).