Performapal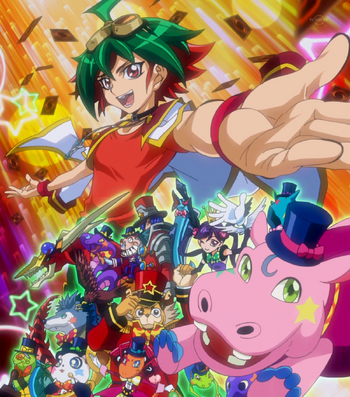 "Performapal", known as "Entermate" (Entameito) in the OCG and the English One-Shot Chapter and as "Enter-Mate" in the English Yu-Gi-Oh! ARC-V manga, is an archetype used by Yuya and Yusho Sakaki in the Yu-Gi-Oh! ARC-V anime and manga.
Yuya Sakaki (Sakaki Yūya) is the protagonist of Yu-Gi-Oh! ARC-V.[9] He is a born-entertainer who attends the You Show Duel School to advance his Dueling expertise and become a "Dueltainer", a specific type of professional Duelist[10][11] similar to his father.[12] He is the pioneer of Pendulum Summoning. After winning the Friendship Cup, Yuya became the new Duel King of New Domino City. He is one of the Lancers.
Yuya has dimensional counterparts: Yuri (Fusion Dimension), Yugo (Synchro Dimension), and Yuto (Xyz Dimension). He is also one of Z-ARC's reincarnations, and later comes to assume Z-ARC's identity after merging with all of his counterparts.