Odd-Eyes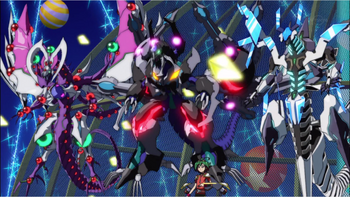 "Odd-Eyes" (Oddoaizu) is an archetype composed primarily of Level/Rank 7 DARK Dragon monsters used by Yuya Sakaki and Z-ARC in the Yu-Gi-Oh! ARC-V anime, manga, and the Yu-Gi-Oh! ARC-V The Strongest Duelist Yuya!!.
The moniker of "Odd-Eyes" refers to the heterochromia iridum present among the monsters of this archetype, all of which have either a red or yellow right eye and either a green or blue left eye.
The "Odd-Eyes", "Magician" and "Performapal" archetypes each have cards that specifically support the others in them and can be used interchangeably to focus on which part of the "Odd-Eyes" arsenal you wish to use most, as demonstrated with Yuya Sakaki who uses all three archetypes in the Yu-Gi-Oh! ARC-V anime.