Noble Knight
https://youtu.be/L3itP6mzlpE
"Noble Knight", referred to as "Sacred Knight" in the anime and some video games, and known as "Holy Knight" (Seikishi) in the OCG, is an archetype of LIGHT and DARK Warrior monsters. It was introduced in the Yu-Gi-Oh! 5D's Tag Force 5 Strategy Guide and received its first support in Return of the Duelist with "Noble Arms - Gallatin".
All "Noble Knights" (except "Noble Knight Joan") are based on the Knights of the Round Table of Arthurian legend, or on related concepts from Arthurian legend. The "Noble Arms" archetype supports this archetype, and encompasses weapons used by those knights.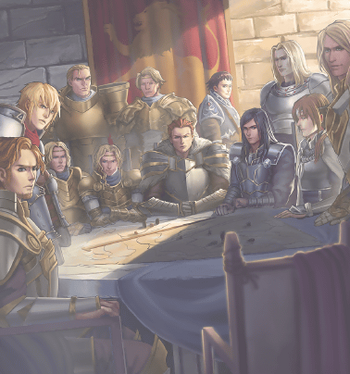 "Number" (Japanese: No. Nanbāzu, "Numbers") is an archetype of Xyz Monsters that are the focus of the story in the Yu-Gi-Oh! ZEXAL anime and manga series. Each "Number" monster has a corresponding natural number included at the start of its name after "Number" (and occasionally a letter, such as C).