Spellcaster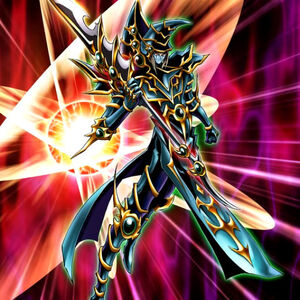 Spellcaster (Japanese: 魔法使い Mahōtsukai "Magician") is a Type consisting of beings that control magic, such as witches, wizards, and mages. The majority of these creatures contain effects and can be very versatile Monsters, used often with support of Spell Cards. Out of all types, Spellcasters are the most present on the current Forbidden and Limited lists.
A high proportion of Spellcaster monsters are either LIGHT or DARK and are the most prolific users of Spell Counters.
Archetypes include "Dark Magician", "Exodia", "Forbidden One", "Fortune Lady", "Gagaga", "Gravekeeper's", "Magician", "Magician Girl", "Performage", "Prophecy", and "Shaddoll".
They also have two of their own Structure Decks, Spellcaster's Judgment and Lord of the Magician, the latter of which was originally released in OCG, but has a TCG counterpart, Spellcaster's Command.
Every main protagonist uses Spellcaster-Type monsters in their Decks. Yugi Muto uses "Dark Magician", "Dark Magician Girl", "Dark Sage", "Magician of Black Chaos", "Breaker the Magical Warrior", along with many others; Jaden Yuki uses "Card Ejector" and "Miracle Flipper"; Yusei Fudo uses "Effect Veiler", "Arbitrator of Mediation", "Stardust Phantom", "Mystic Piper" and "Salvagent"; Yuma Tsukumo uses "Gagaga Magician", "Gagaga Girl", "Flelf" and "Gagaga Child", and "Number 11: Big Eye"; Yuya Sakaki uses "Stargazer Magician", "Timegazer Magician", "Xiangke Magician", "Xiangsheng Magician''.
"Number" (Japanese: No. Nanbāzu, "Numbers") is an archetype of Xyz Monsters that are the focus of the story in the Yu-Gi-Oh! ZEXAL anime and manga series. Each "Number" monster has a corresponding natural number included at the start of its name after "Number" (and occasionally a letter, such as C).