Misty Tredwell-Gagagigo deck
Deck Information
Deck Type:
Anime Decks
Deck Master:
Evil Dragon Ananta
TCG/OCG:
TCG
Submission Date:
December 31st 2018
Author:
sam50
YGOPRODeck File Download
Misty Tredwell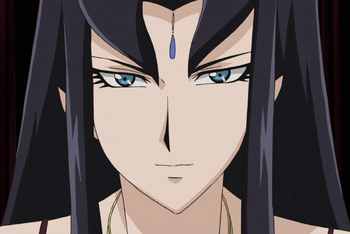 Misty Tredwell, known as Misty Lola in the Japanese version, was a character from Yu-Gi-Oh! 5D's. She is a fashion model, who could read someone based on their facial appearance. She was a member of the Dark Signers with the Lizard dark mark, but was returned to life following Goodwin's defeat.
Reptile
Reptile
(Japanese:
Hachūrui
) monsters were once one of the most overlooked and undersupported types, their only real use previously being
Tribute
fodder for "
Ultra Evolution Pill
". However, with the release of the "
Alien
" and "
Venom
"
archetypes
, Reptiles have come into their own as a
Type
that focuses on controlling the opponent with the use of
Counters
. Many Reptiles focus upon weakening the opponent instead of strengthening themselves, often leaving the opponent powerless. Because of this, Reptile-based decks and archetypes focus on tactics that reward patience and strategy over simplicity and brute force. The most brutal example of this is found in "
Vennominaga the Deity of Poisonous Snakes
", which, while difficult to get onto the field, brought near-invincibility as well as one of the game's few
Automatic Win
conditions.