LCS X: Peeking the Current State of the Meta
The Luxury Championship Series (LCS) X was held last January 30th-31st. We expected much of what we saw. Droll & Lock Bird saw main deck play, Virtual World, Drytron, and Eldlich were absolutely rampant. However, there were a few surprises – from deck choices to top cut appearances. Today we will take a look at those and how the current meta is shaping up.
---
How Credible is the LCS?
The LCS has been around for a long time. And while it is not a Konami-sanctioned event, it has its merits. For one, the LCS X had 129 TEAMS. It was a 3v3 event, so that adds up to 387 players. That's a pretty huge number, especially considering that it's an online event. In addition to that, the field was extremely competitive. Big names like Paolo Goncalves, Jesse Kotton, Cameron Neal, Koty Angeloff among others were in the event. We're talking UDS, YCS, and NAWCQ participants and winners. So even if it's an online, non-sanctioned event – it most definitely holds some value to top and/or win the LCS.
---
Decks of Choice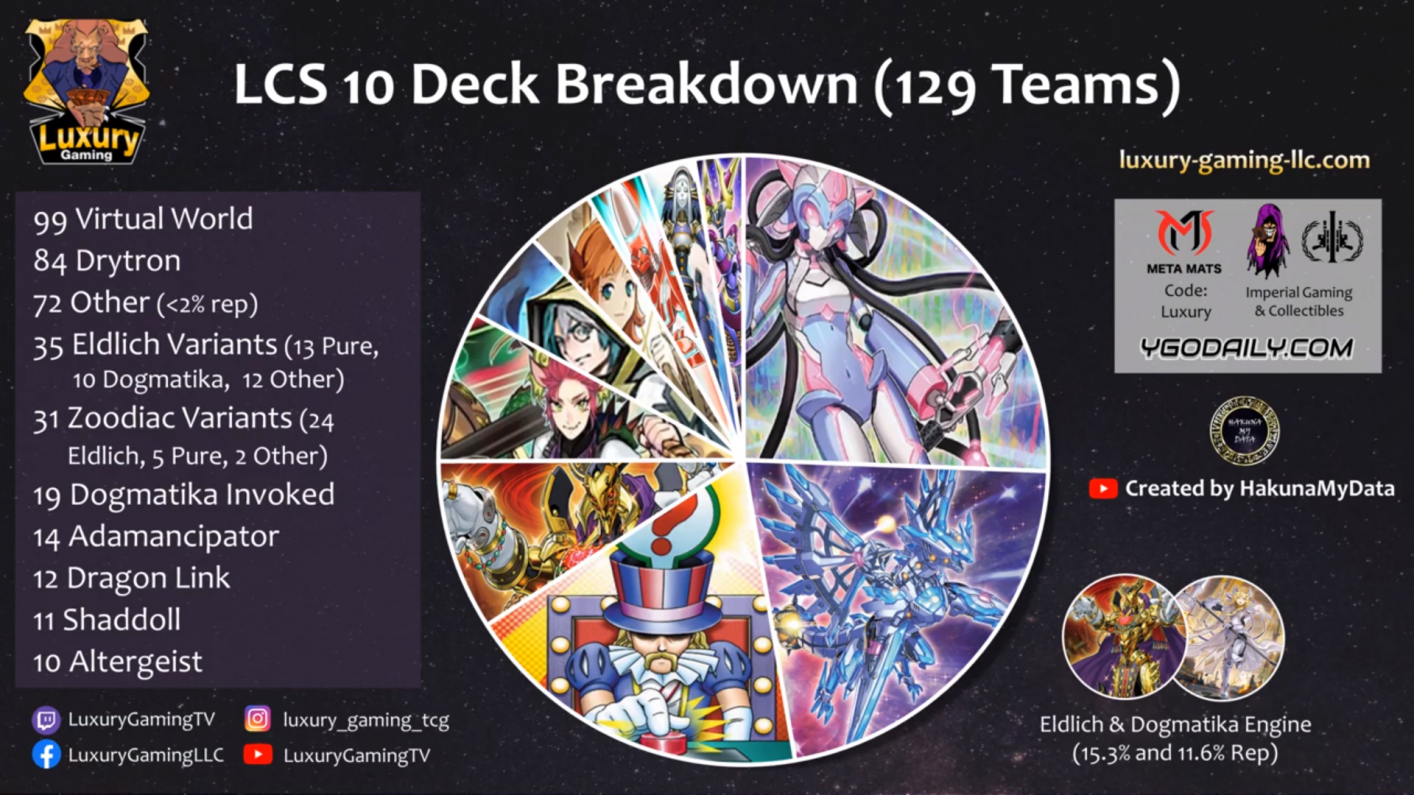 ---
Out of the 387 players from the LCS X, 99 played Virtual World and 84 played Drytron – summing up to 47% of the entire competition. This came as no surprise since these two decks were hailed to be at the top of the meta food chain as far as combo decks go. That's not to say that other combo decks didn't pop off. There was a fair share of Dragon Link and Adamancipator – two decks that most wrote off as dead after their respective hits.
On the control side of the equation, Eldlich and Zoodiac variants came up to a total of 66 players. These two were, just as expected, prominent in the event. It is also worth mentioning that some of the more notable players chose to play control. One example would be Jesse Kotton playing pure Eldlich. But what the more interesting thing is, is the presence (and success) of some of the other control decks such as Shadoll (some of which didn't utilize the Invoked engine), Dogmatika Invoked, and Altergeist. Lastly, it doesn't show in the graph, but there were definitely some cool rogue decks that came into play too.
Top Contenders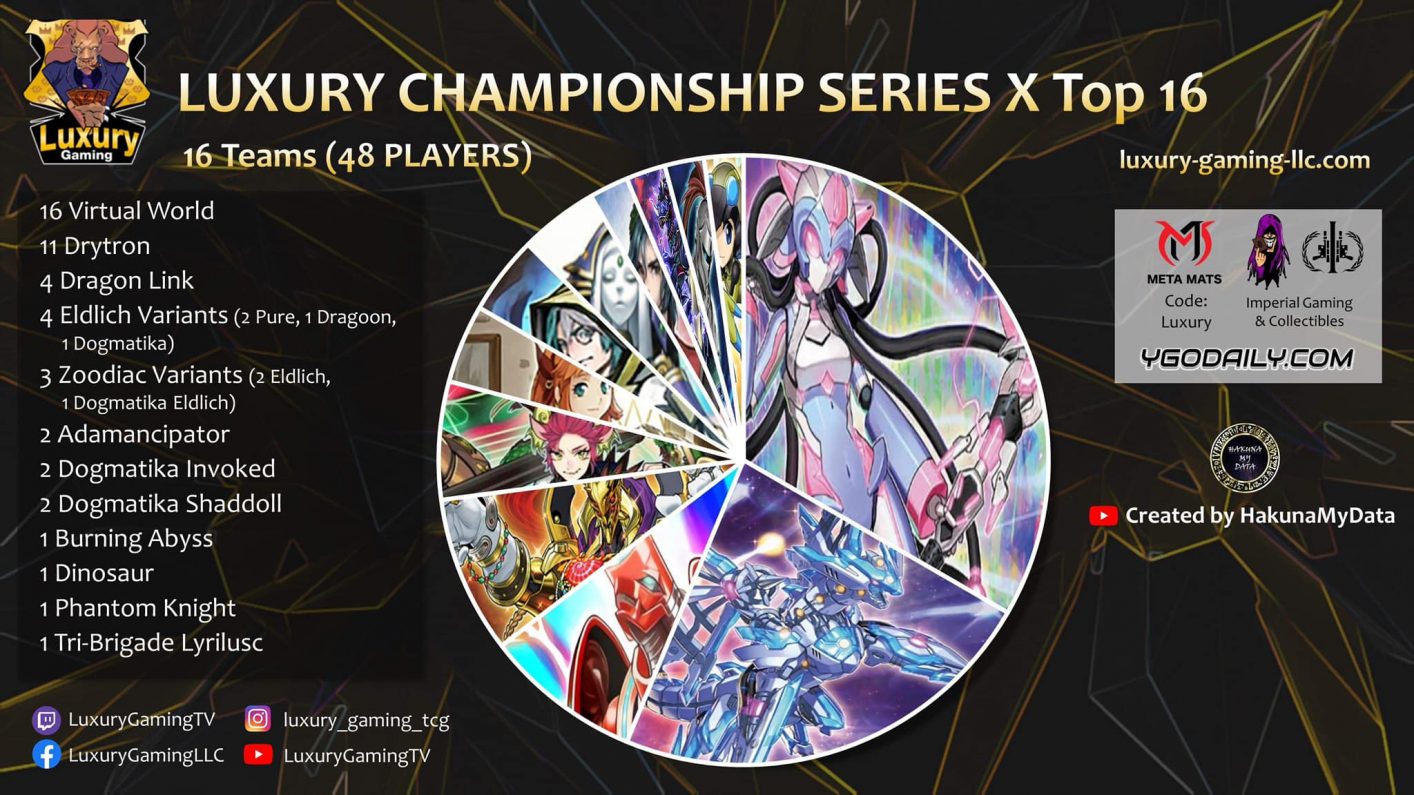 In the Top 16, Virtual World and Drytron, the clear meta combo favorites, still reigned supreme in terms of numbers. However, they were not able to bag the victory.
The Victors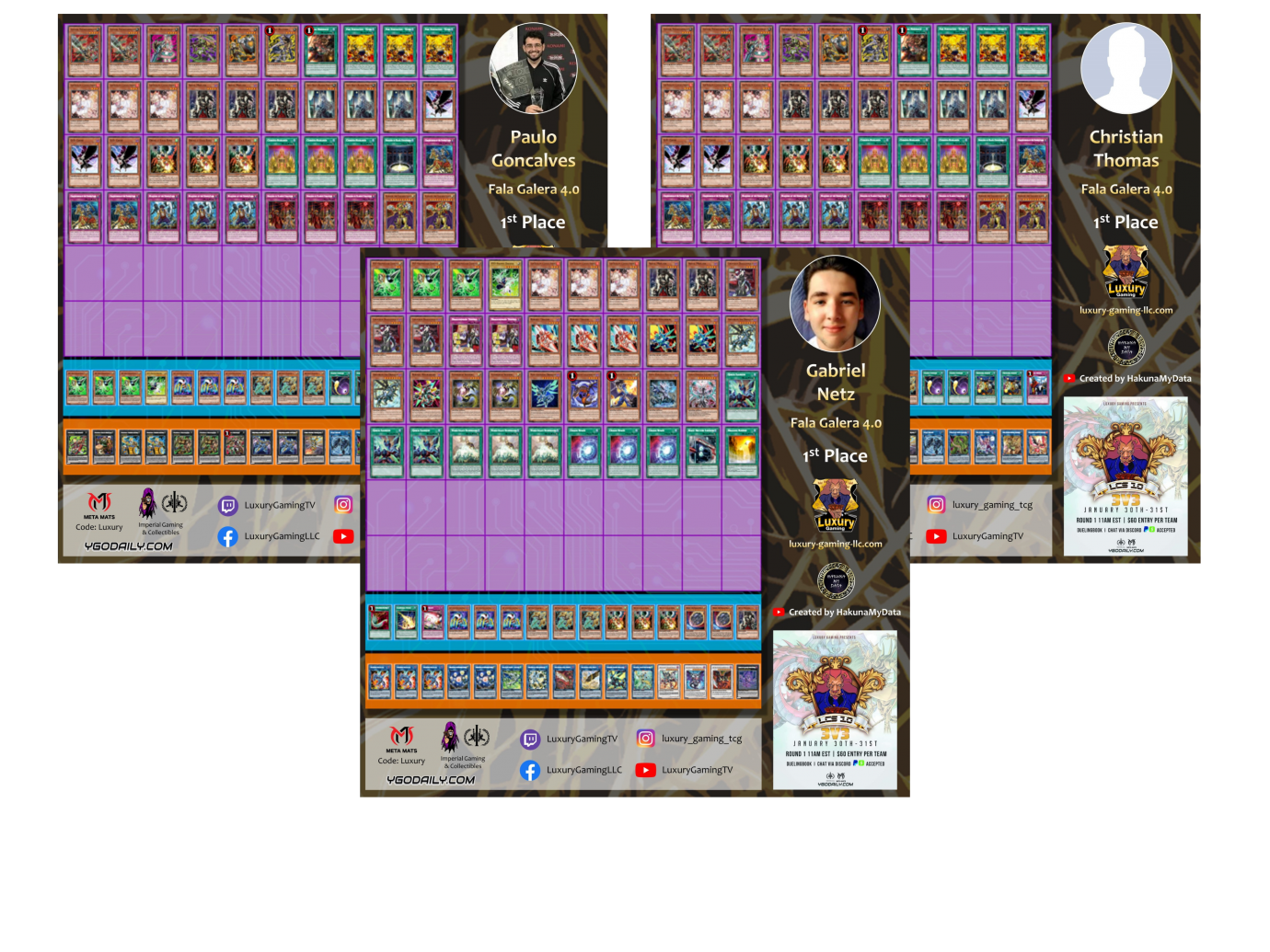 Team Fala Galera 4.0, consisting of Paolo Goncalves, Christian Thomas, and Gabriel Netz came home victorious. They played Zoodiac Eldlich and Dragon Link. This team was a pleasure to watch. Albeit not the expected champions, they played extremely well and it was evident that they were prepared for the meta. The two Zoo Eld lists played FIFTEEN hand traps. That is a huge amount of hand traps to run. It appears that they opted to drop some "real traps" to get to this number. Needless to say, it worked wonders as they were able to beat most combo decks even when going second, and eventually got to bring home the bacon!
---
Rogue Uprising
There are a few things worth noticing here. One of which is the success of some decks that most people did not even think people would pilot in this event. Burning Abyss once again has found its way to the top, along with Phantom Knights, Adamancipator, and Dinosaurs. These decks feel extremely strong still – they're just outmatched by the current top two contenders. One ban list and we're sure to see most, if not all of these, rise to the top once more. We also saw Dogmatika Invoked, and Shaddoll as control Rogue Decks come into the fray.
The Dark Horse
What really caught my eye was Tri-Brigade Lyrilusc. This was a shocker to most. Prior to this event, the deck has not seen a lot of popularity. That is most definitely about to change. The ability to lock your opponent from special summoning anything other than winds is ridiculous. Some decks have no way to out this (Drytron, especially since they only have two normal summons that can out the Barrier Statue of the Stormwinds – Dawn Knight and Manju of the Ten Thousand Hands). In addition to that, they can more often than not end on a Linkuriboh with it, too. I strongly believe that this deck is going to see a lot more play from now on, and players should definitely study the deck to be able to stop it.
---
Conclusion
The meta still hasn't shifted heavily as of the moment. We still have Drytron and Virtual World at the top of the combo deck ladder. That being said, control decks outmatched them in this tournament. We still have a healthy combination of control vs combo decks in the mix. The LCS X has proved that much and also showed us that rogue decks can most certainly still hit a puncher's chance and get to the top against meta juggernauts. We all best be wary of some of the decks that we saw in this tournament. You never know, they might be at the top of the next event, or after the ban list drops.
Latest posts by Yugi Papi
(see all)