Earthbound Immortal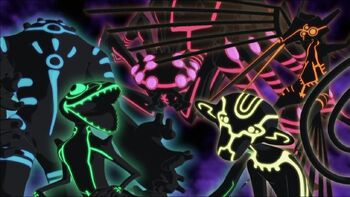 https://youtu.be/bQook_ELL44
Earthbound Immortal", known as "Earthbound God" (Jibakushin) in Japan, is a sub-archetype of the "Earthbound" archetype used by the Dark Signers in the Yu-Gi-Oh! 5D's anime, composed of seven Level 10 DARK monsters with various Types.
"Earthbound Immortals" are based on the Nazca Lines. Each of them are pictured rising from their corresponding Line and their form matches the being they represent, as well as their Type. The "Earthbound Immortals" also each have a color of the rainbow.
They are among the largest monsters seen in the anime; dwarfing humans and being comparable to massive buildings in size.
Yu Gi Oh! 5D's the dark tuner new year 2019
"Number" (Japanese: No. Nanbāzu, "Numbers") is an archetype of Xyz Monsters that are the focus of the story in the Yu-Gi-Oh! ZEXAL anime and manga series. Each "Number" monster has a corresponding natural number included at the start of its name after "Number" (and occasionally a letter, such as C).