Ancient Warriors
Deck Primer
=Ancient Warriors=
---
Ancient Warriors are a Beast-Warrior Archetype (Fire Formation - Tenki) introduced in Ignition Assault, based on the novel War of the Three Kingdoms, it features warriors of the aforementioned kingdoms and their journeys. This is a going second strategy that focuses on OTK'ing and depleting resources via their high stats and effects.
---
=Main Deck=
---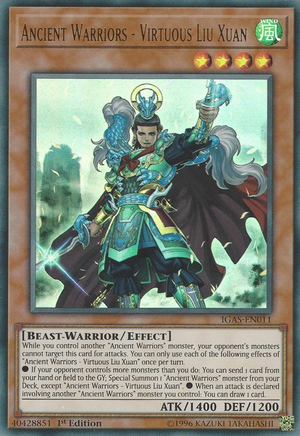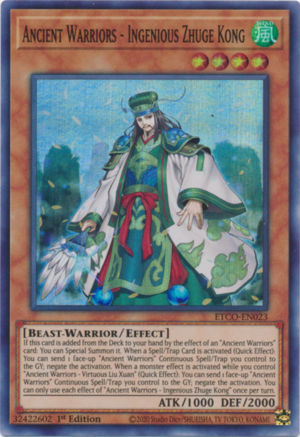 Starting with the Wind Attribute Ancient Warriors, representing the Shu Han, Ancient Warriors - Virtuous Liu Xuan is the second best starter for the Deck. Summoning 1 Ancient Warrior by sending 1 card from hand or Field to the GY (this is a very common cost, get used to it), enabling you to then summon Ancient Warriors - Masterful Sun Mou which, like Liu, can summon from Deck, granting you a Link-2 and combo extension which the Deck needs a lot. During any battle involving an Ancient Warriors he can draw you 1 card, which does come up quite often allowing you to get a handtrap or breaker that will help you cripple your already weakened opponent. Liu Xan can 100% be played at 1 copy granted you are on triple Fire Formation - Tenki or you feel lucky.
Unlike Liu, Ancient Warriors - Ingenious Zhuge Kong is a card you don't want to see in your opening hand but instead in your endboard as he is a crucial piece of interaction for the Deck, summoning himself when added by an Ancient Warrior card effect he can negate Spells/Traps by sending Ancient Warrior continuous Spells/Traps, which your most important does have a grave effect which makes it not a very absurd cost. He can negate monsters but only if Liu Xuan is on the board, which most of the time he is not.
---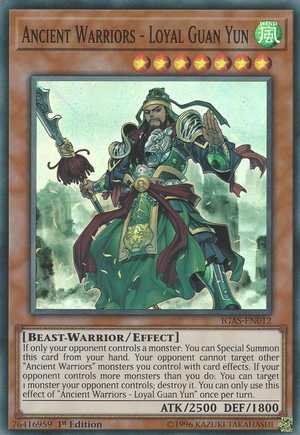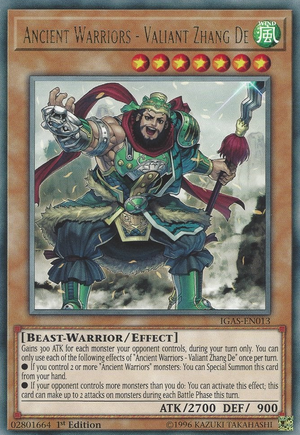 Ancient Warriors - Loyal Guan Yun unfortunately wasn't the next Dinowrestler Pankratops but instead he is one of your best baits, protecting the other Warriors from card effects making Sun and Liu not dead on arrival, while having a neat summoning condition which does contradict with cards like Change of Heart or Triple Tactics Talent's steal effect so watch out for that, and a pop on top of all of this. This guy can help you break boards with ease while giving you Link material.
Ancient Warriors - Valiant Zhang De on the other hand is your best OTK tools, being searcheable by Ancient Warriors - Savage Don Ying or Ancient Warriors Oath - Double Dragon Lords, he can be summoned by controling at least 2 Ancient Warriors, on board he gains 300ATK for each monster your opponent control, which paired with his ability to attack up to 2 monsters means he can dish big ammounts of damage very easily. This effect by the way must be activated in the Main Phase, I kept mistaking it for the longest time as something that comes up during the Battle Phase...
---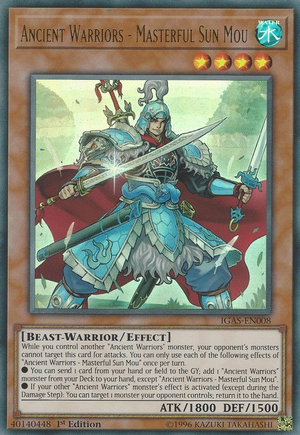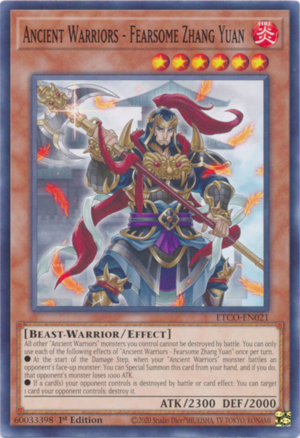 Ancient Warriors - Masterful Sun Mou is the Deck's true starter if you don't count Tenyi. Having the same condition as Liu of sending a card to summon an Ancient Warrior from Deck and unlike Liu when another Ancient Warrior effect is activated he becomes a Compulsory Evacuation Device. If you start with Sun you will have to summon the Liu or any other Wind Ancient Warrior since its a requirement for their Link or using Ancient Warriors Saga - Deception and Betrayal's effect to change the Attribute which is not recommended.
Ancient Warriors - Fearsome Zhang Yuan is an oddball, the fire Ancient Warriors are focused on battle which doesn't help you build boards, him and Ancient Warriors - Ambitious Cao De can be alternated over. The first summons himself for free if your Ancient Warrior is about to battle, lowering the attack of the target by 1000ATK points and if a card is destroyed by battle or card effect he can pop a card on board. While Cao De summons himself for a send after a card is destroyed by battle, and when he destroys a monster by battle he gets to summon it back to your board... in Def position cause we cant have nice things. I hardly search for these guys and at one point just cut them off.
---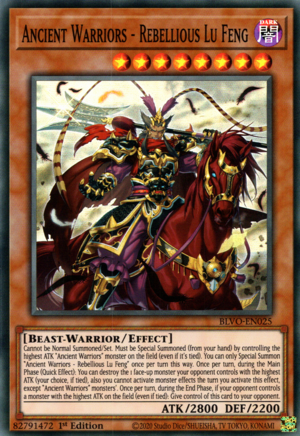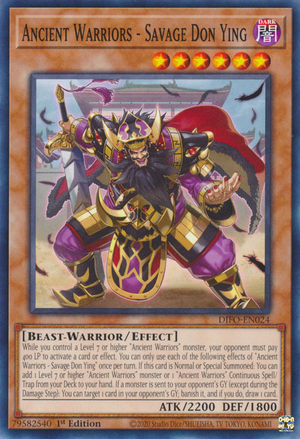 One of the only Dark Monsters in the Archetype, Ancient Warriors - Rebellious Lu Feng is a crucial endboard piece, summoning himself if you control the highest attack Ancient Warrior on board. Now you might be thinking: "Are they expecting an Ancient Warrior mirror match?" and the answer to that is maybe but most likely its because of Lu Feng's last effect that changes control if your opponent controls a monster with high attack, you can however fetch him back with Ancient Warriors Saga - Deception and Betrayal but at that point he was probably linked away. The effect you will be using the most however is his ability to pop the highest attack monster on board, which does lock you into Ancient Warrior effects, which emans you cannot use anything prior that isnt an Ancient Warrior, otherwise you cannot pop. You will be searching him via Don or Double Dragon Lords.
Ancient Warriors - Savage Don Ying is a Trickstar card if Trickstars were good. This card cares about you controling Level 7 or higher Ancient Warriors which enables his taxation effect which makes the opponent pay 400LP for every activation, he cares so much about this that on summon he gets to search a Level 7 or Higer Warrior or a Continuous Spell/Trap. his last effect synergizes with the one you are meant to search and have on board with him, Ancient Warriors - Rebellious Lu Feng, that whenever a card hits the GY he gets to banish something from there. Meaning you get to remove a card via Lu Feng, bounce via Sun Mou and then banish something in the GY with Ying.
---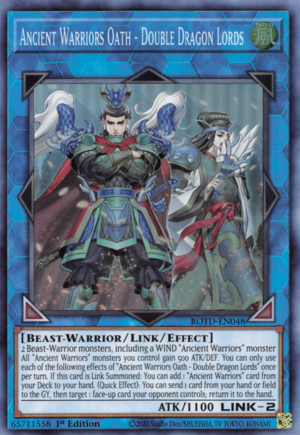 Ancient Warriors Oath - Double Dragon Lords is another crucial piece for the endboard, boosting your monsters by 500 points while giving you a search on summon which allows you to get Ancient Warriors Saga - Deception and Betrayal in you need to bring out Don or getting you Lu Feng/Zhuge for extra interruption. The effect this card is known for is the bounce by sending a card from field or hand, which can be used to trigger the backrow to summon whatever you may have searchead
---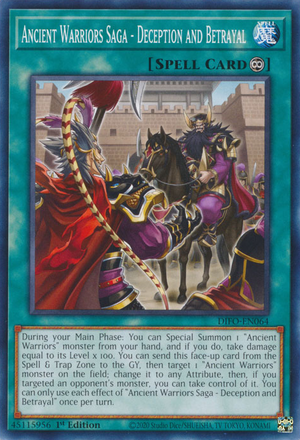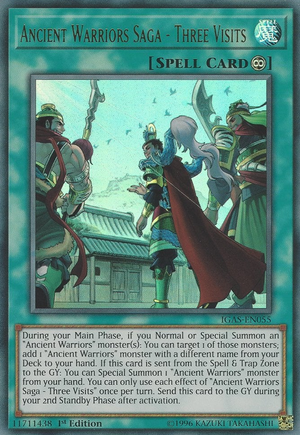 Ancient Warriors Saga - Deception and Betrayal brings the bricks out of your hand by paying LP equal to their Level x 100, you will mostly be summon Don Ying with this unless you believe Stormforth Ancient Warriors is the future. The niche control + Attribute change effect is here so you can get back your Lu Feng, it also allows the Deck to go into Bahamut Shark to access Toadally Awesome. Currently at 3 but running it at 1-2 doesn't sound that bad.
Ancient Warriors Saga - Three Visits is one of the cards that you always want to see, searching an Ancient Warrior of different name when another is summoned, giving you access to Zhuge without you having to waste Double Dragon's effect or searcing Valiant for extra bodies for the OTK. This card also has the GY effect of summoning a Warrior from hand when sent from Field which makes Double, Zhunge, Liu and Sun less costly.
---
=Combo Example=
Hand: Fire Formation - Tenki or Ancient Warriors - Masterful Sun Mou and 1 card
Fire Formation - Tenki activate > Tenki add Ancient Warriors - Masterful Sun Mou > Sun Mou normal summon > Sun Mou sends Tenki for Ancient Warriors - Ingenious Zhuge Kong > Zhuge summons himself > make Double Dragon Lords adding Ancient Warriors - Rebellious Lu Feng, Summon Lu Feng.
If you have Ancient Warriors Saga - Three Visits on hand you can activate it before Tenki, summoning the Sun will make it add Ancient Warriors - Savage Don Ying, which you will search Ancient Warriors Saga - Deception and Betrayal for instead of the Lu Feng, pay 600LP to summon Don which will search the Lu Feng.
The Deck doesnt have big combos since its mostly based on what you have, being a more free form Deck.
---
Other Decks on ygoprodeck.com
Login
to join the YGOPRODeck discussion!

Cool
0

Funny
0
Angry
0

Sad
0
Comments
Test Hand
Opening Hand
Red: 1st Card Draw
Shuffled using Fisher Yates algorithm
Delete Deck
Are you sure you wish to delete this deck? Once a deck is deleted, it cannot be retrieved.
Master Duel Cost Breakdown
Export Deck
Export to Image
Export to List
Export to Tabletop Simulator
Export Deck to Master Duel/Neuron
You can export your deck directly from YGOPRODeck to Yu-Gi-Oh! Master Duel or Neuron using our Web Browser extension!
Simply install the extension, and click the button below to export your deck to Master Duel or Neuron! It will bring you to the Official Konami Database. Once there, you can edit a deck and hit the "Import clipboard and save" button!
Price Deck from
Total Estimated Deck Price:
This tool attempts to find the lowest Market Price for each card on .
| Card | Qty | Price ea | Card Set |
| --- | --- | --- | --- |
Export Prices to CSV
Prices not found for the following cards:
Download Deck images
This will download all images used in this deck and zip them up for you. This is done on your computer and could take a minute or so to complete so please do not close the page.