December 2019 Tournament Report (Trinity Format)
December 2019 Tournament Report (Trinity Format)
This Tournament Report covers the most recent (December 2019) YGOPROdeck Trinity Cup, played in Trinity Format.
You can read about the rules of Trinity Format here…
…or join the Trinity Discord Server here for the latest Trinity news & updates!
The December 2019 Trinity Cup was held this month with 34 participants, and the results are in!
Top 4:
Champion: Wuh Train
2nd place: Yugitom
Top 4: Izanagi
Top 4: Anju

41 Flavors of Burritos

Guiltygearxx

Matt

Habro
Congratulations to all who topped! The following deck profiles were all written by the respective tournament participants.
---
December 2019 1st Place: Blue-Eyes White Dragon (

Piloted by Wuh train)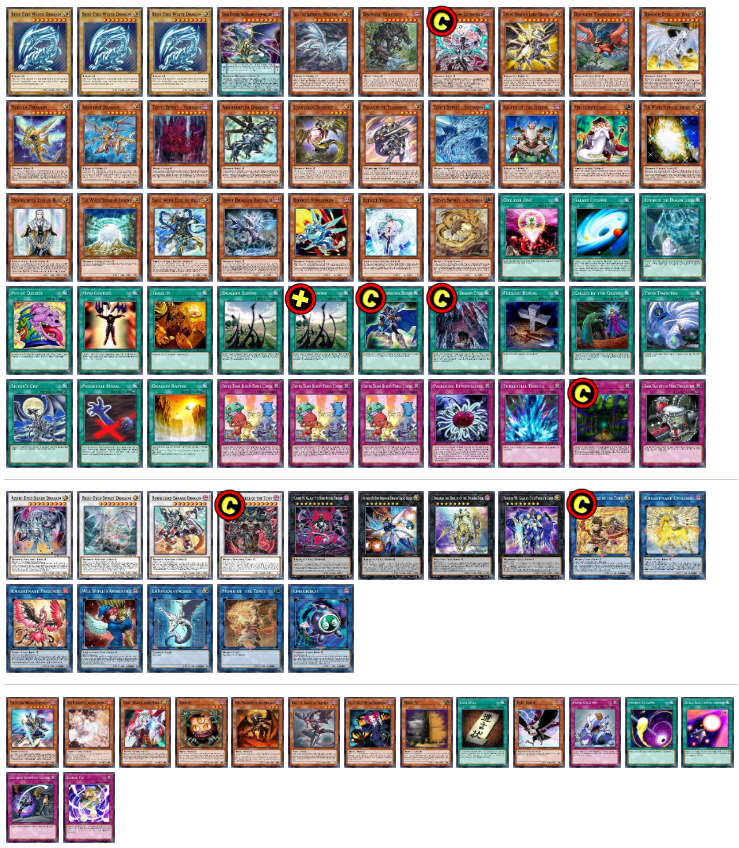 What deck did you play and why?
I played Blue-Eyes in the December 2019 cup, since it has consistent access to some of the most powerful cards in the format, like Chaos Dragon Levianeer, Number 95: Galaxy-Eyes Dark Matter Dragon and Blue-Eyes Spirit Dragon. I love summoning Dingirsu, the Orcust of the Evening Star and this deck let me do just that.
What tech choices did you play?
I opted to play a much more controlling version of Blue-Eyes, which played more trap cards such as Torrential Tribute, Lost Wind, and Dark Factory of Mass Production. I have found that one big threat, backed up by a strong spells/traps, is much stronger than two big threats with no backrow. The summon limit really prevents any heavy first-turn monster combos.
How did you prepare for the December 2019 meta, and would you change anything going forward?
My Trinities were not spent optimally; in the future, I would try to better spend them. Some cards like Draco Masters of the Tenyi were never used. I often ended up siding out my Vessel for the Dragon Cycle, despite it being one of my Trinities.
---
December 2019 2nd Place: Lunalight Zoodiac (

Piloted by Yugitom)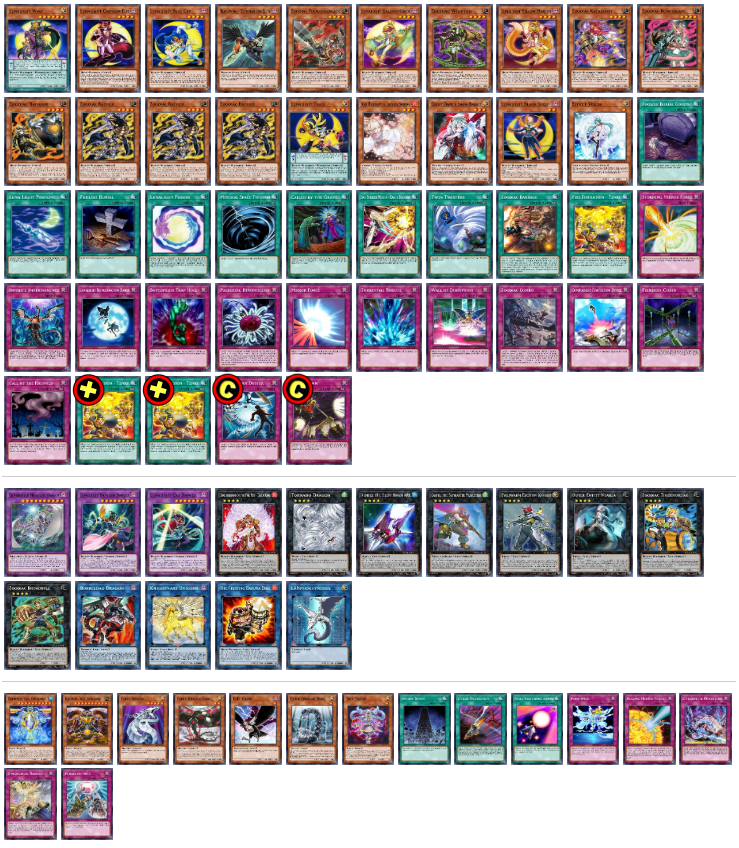 What deck did you play and why?
I played Lunalight Zoodiac, because it's the December cup. I intended on taking it easy and wanted to experiment with a different deck during Christmas time. Turns out my list wasn't as casual as I thought it was going to be, since I made second place!
What tech choices did you play?
How were your matchups?
Either very straightforward or extremely difficult. Due to the nature of LunaZoo, there is no middle ground. If you can't answer a Zoodiac Broadbull, with Zoodiac Whiptail under it, and some strong backrow, you're gonna lose pretty quickly. If you can deal with that and keep recurring your resources, you'll probably win. I went X-2 in swiss, but got revenge against one of my losses in top 4 (Aromage Generaider Synchro). Ironically, I lost the final to someone I beat in Swiss (Blue-Eyes). GGs to all my opponents and I am pretty elated to be in the top 2 for the umpteenth month in a row!
---
December 2019 Top 4: Aromage Generaider Synchro (

Piloted by Izanagi)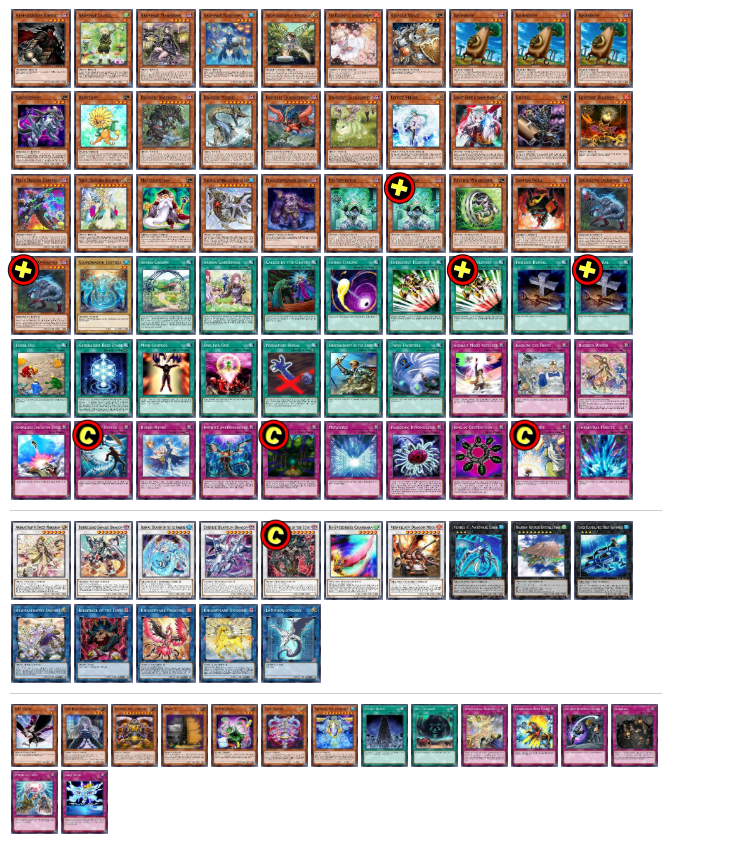 What deck did you play and why?
I chose to play Aromage Generaider this cup, though you could also call it Aromage Synchro. Aromaseraphy Sweet Marjoram is a strong card that doubles as blanket protection from targeting and a pseudo Zoodiac Drident. Marjoram searching its own recursion (or more monsters) is also a big plus. On top of that, I realized that Draco Berserker of the Tenyi and the Generaider cards are incredibly strong, so I decided to run cards to facilitate them. My deck probably could have emphasized the Generaider side a little more, but it ran well enough without them.
What tech choices did you play?
Psi-Reflector is an incredibly strong card that I don't think people have been taking advantage of. Being able to go into any generic synchro from level 6 to 9 off one card is incredibly useful. Specifically, I got a lot of use out of being able to flex between Marjoram, Berserker, and CQD.
Past that I played a small Dino Engine, and a small Zombie engine to facilitate Aromaseraphy Sweet Marjoram. I found that both were better than the Genex or Supay engines people had been running. I also chose to play a Danger! engine to help unbrick hands and play through disruption.
How did you prepare for the December 2019 meta, and would you change anything going forward?
I expected Generaiders to be relevant, though I didn't build for them quite enough. Had counted on being able to use Aromaseraphy Sweet Marjoram to pop Generaider Boss Stage, but Nidhogg, Generaider Boss of Ice says "no" to Synchro Monsters a little too well for me. Should probably have played another take-control card or main decked Mystical Space Typhoon.
I didn't really know what else to expect that would give me too much trouble, so my side is a little too heavy towards a pendulum matchup I never had.
How were your matchups?
My matchups were really not terrible. Main issue was that my deck has a difficult time going second, cards like Nidhogg or really any disruption means I can't get into my synchros, which means I'm usually left with an attack position Psi-Reflector or Armageddon Knight. Not exactly the best position. Luckily, the Dangers help mitigate this issue, and I run enough backrow that losing out on a first turn synchro usually doesn't mean I'm out of the duel. Next month I might pick up another engine to help fix this issue.
Over the tournament, I found that a lot of decks have a hard time getting around a live Marjoram, and the ones that don't have issues with it usually have an issue with Generaiders or Berserker. Was a lot of fun piloting the deck in some of the matchups, top cut especially!
---
December 2019 Top 4: Mekk-Knight (

Piloted by Anju)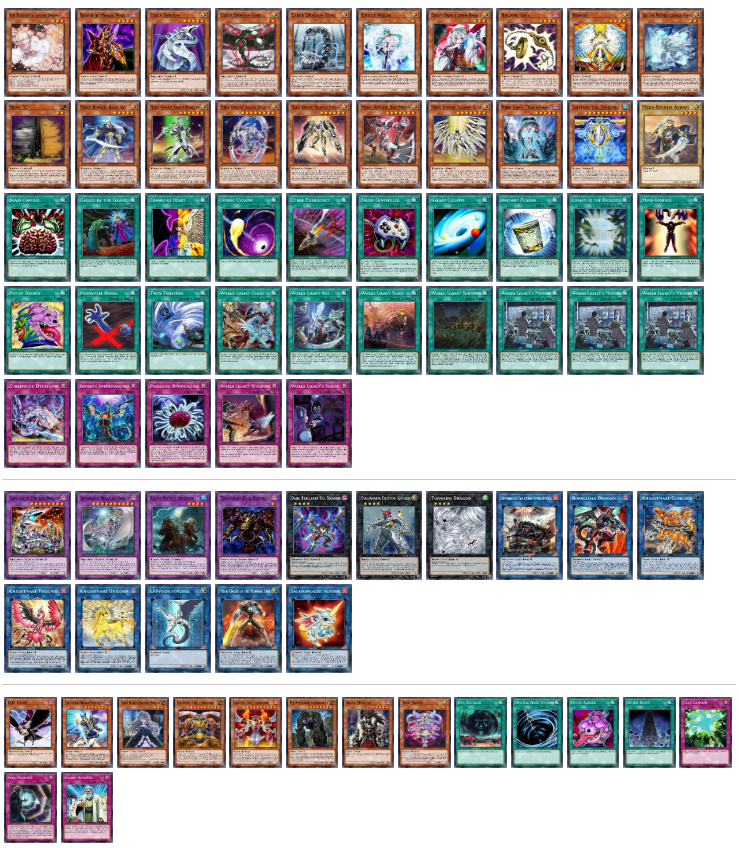 What deck did you play and why?
I played going second Mekk-Knights for the December 2019 cup. It's pretty much the same deck I've been playing for a while now.
What tech choices did you play?
This deck was basically designed to be as anti-backrow and machine as possible, which would have been great against past meta decks like Kozmo and Traptrix. However, I wasn't as prepared against big chungus decks like Blue Eyes. I also didn't expect Nidhogg, Generaider Boss of Ice to destroy my deck that badly.
How did you prepare for the December 2019 meta, and would you change anything going forward?
I've already covered how I prepared; going forward, I'll probably side the spell & trap hate and prepare a better side deck.
How were your matchups?
In Swiss, I won against the following: Noble Knights 2-0 Round 1, Salamangreats 2-1 Round 2, Thunder Dragons 2-0 Round 3,"Phantom Fish" 2-0 Round 4.
Then I anticlimactically lost 0-2 against Generaider Subterror in Round 5.
I somehow managed to win 2-1 against Habro's Blue-Eyes Round 1 of Top 8, but wasn't as lucky in Top 4. Lost 0-2 against WuhTrain's Blue-Eyes. There wasn't much I could do that game.
---
December 2019 – Top 8
Thunder Tenyi Madolche (Piloted by 41 Flavors of Burritos)
I played a variant of Thunder Dragon that incorporated Madolche and Tenyi into the deck. It was one of the 12 variants I created the night before. Once I discovered that it worked, I really wanted to run it in the YTC to test out how far I can push Thunder Dragon deckbuilding before it reaches its breaking point. 
---
Subterror/EvilEye/Generaider/Mekk-Knight (Piloted by 41 guiltygearxx)
I played Generaider with Subterror and Evil Eye. Generaiders are able to put on pressure with 1 card, but need a lot of consistency boosters due to their inherently bricky nature. I wanted cards that could utilize field spells to extend beyond Generaider plays and diversify my options as well as provide stronger normal summon-able monsters. Mekk-Knight is included to provide offense and search some support cards that contribute to summoning Generaiders or going for the Secret negation lock.
---
Phantom Knight Paleozoic (Piloted by Matt)
I played Phantom Fish, a deck of my own creation. I played it because it is fun! Mathmech Sigma was a weird, but a nice inclusion in the deck. Sigma let me do plays that won me games way too many times to cut it. To prepare for the meta, I dueled a lot against Mika before this YTC, and attended every Trinity Online Locals, letting me get a feel of the metagame. The 2 losses I got were in swiss, against Anju's amazing Mekk-Knight deck. Honestly, that matchup was all skill and I just wasn't on par with Anju. The other loss was against Wuh Train in top 8. I had never faced Blue-Eyes before, so I had no idea what I was doing. I think next time I might beat him (or at least it will be a closer match). To conclude, all of my losses were on me – and not my deck – which I have optimized to hell by now.
---
Blue-Eyes (Piloted by Habro)
I played Blue-Eyes. I actually wanted to play Gladiator Beast, but didn't have time to test it. Hence I chose a deck I was familiar with.
---
Latest posts by TreetopDuelist
(see all)