Cyberse
Cyberse ( Saibāsu) is a Type of monster, which debuted in Yu-Gi-Oh! VRAINS. Appearance-wise, they resemble creatures and humanoids strongly connected to elements of digital technology and cyberspace. At times though, they tend to resemble other various monster types (most commonly Machine and Psychic monsters, with the humanoids bearing design elements from the TRON franchise). The name is a portmanteau of "Cyber" (Saibā) and "Universe" (Yunibāsu).
Their general theme revolves around swarming the field with weak monsters to easily Link Summon powerful Link Monsters, and they also have lots of monsters that gain effects when banished in a similar vein to Psychic monsters.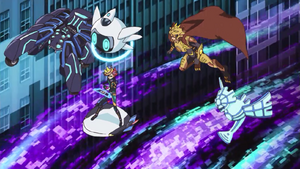 "Number" (Japanese: No. Nanbāzu, "Numbers") is an archetype of Xyz Monsters that are the focus of the story in the Yu-Gi-Oh! ZEXAL anime and manga series. Each "Number" monster has a corresponding natural number included at the start of its name after "Number" (and occasionally a letter, such as C).