Deck Information
Deck Type:
Anime Decks
Deck Master:
Cyber Prima
TCG/OCG:
TCG
Submission Date:
September 16th 2018
Author:
sam50
YGOPRODeck File Download
Alexis Rhodes
Alexis Rhodes, known as Asuka Tenjoin in the Japanese version, is a strong female Duelist from the Obelisk Blue dormitory at Duel Academy as well as one of Jaden's closest friends. She usually serves as the only female protagonist in Yu-Gi-Oh! GX, although Blair begins having a slight role as well near the end of the series.
An alternate universe version of Alexis appears in Yu-Gi-Oh! ARC-V.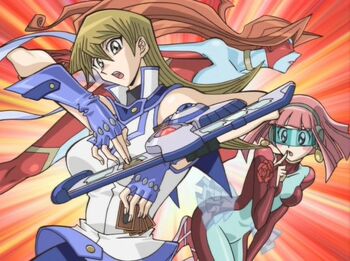 "Number" (Japanese: No. Nanbāzu, "Numbers") is an archetype of Xyz Monsters that are the focus of the story in the Yu-Gi-Oh! ZEXAL anime and manga series. Each "Number" monster has a corresponding natural number included at the start of its name after "Number" (and occasionally a letter, such as C).