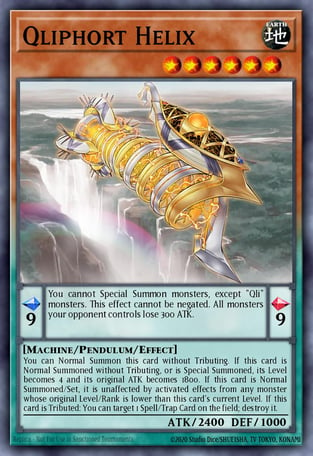 Qliphort Helix
Views: 46,244
Views this Week: 0
Card Text
[ Pendulum Effect ]
You cannot Special Summon monsters, except "Qli" monsters. This effect cannot be negated. All monsters your opponent controls lose 300 ATK.
----------------------------------------
[ Monster Effect ]
You can Normal Summon this card without Tributing. If this card is Normal Summoned without Tributing, or is Special Summoned, its Level becomes 4 and its original ATK becomes 1800. If this card is Normal Summoned/Set, it is unaffected by activated effects from any monster whose original Level/Rank is lower than this card's current Level. If this card is Tributed: You can target 1 Spell/Trap Card on the field; destroy it.
---
Card Sets
---
Comments