Beetroopers Fly Into Action!
Beetroopers made a surprising entrance into Yugioh as a TCG exclusive archetype. While compact, they can bolster the already deep set of Insect support to make a concise, powerful deck.
Beetrooper's Stepping Stone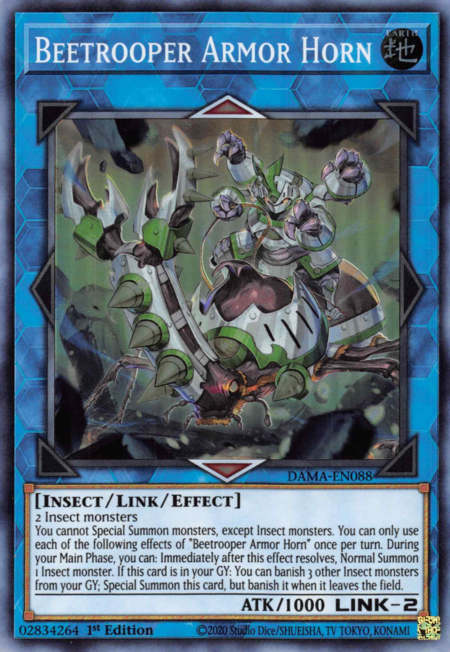 Beetrooper Armor Horn gives context to many of the other cards in the archetype. Its materials are child's play for any Insect deck, whether it be Inzektors or an Insect goodstuff deck. Clearly, Armor Horn means to Link climb like crazy, and allowing an extra Normal Summon provides the opportunity to summon another Inzektor, Resonance Insect, or Gokipole to extend.
But even if the first effect of Armor Horn is negated, its second effect can revive itself to keep the Link plays going. Insects have a plethora of extenders, including Ready Fusion with Kwagar Hercules, Multiplication of Ants, and Danger! Mothman!. It is just extra icing on the cake that Armor Horn's banish effect can activate Resonance Insect's second ability!
The Wall of Beetroopers
Giant Beetrooper Invincible Atlas gives a clearer end board to Insect decks. With 3000 Atk and the same destruction and targeting immunity as Red-Eyes Dark Dragoon, Invincible Atlas lives up to its name!
However, its targeting immunity isn't just for protecting itself. Its effect to summon a Beetrooper from your deck is also protected from the likes of Effect Veiler and Infinite Impermanence. While the monster summoned will not have such protections, it is likely you will still receive a higher quality body in exchange for a random Insect.
Summon the Beetrooper Scouts!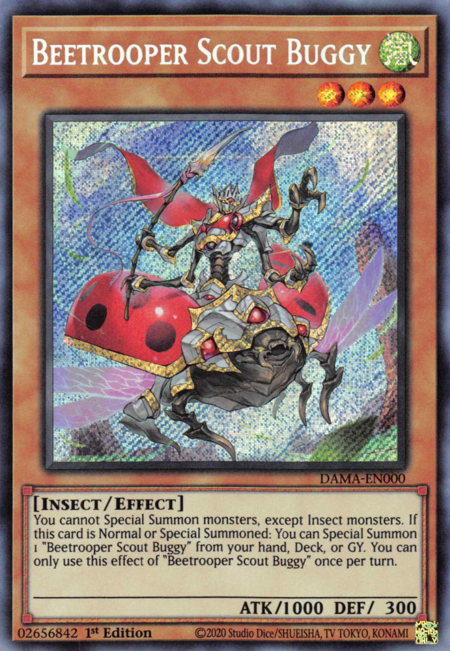 Beetrooper Scout Buggy is a straightforward swarming tool. On its own, it can summon Armor Horn. If it is summoned by Invincible Atlas, it can further protect your board by Linking into Inzektor Picofalena and equipping it with Gokipole.
While Scout Buggy seems like an Insect Tour Guide From the Underworld but worse, it can fetch a copy from the GY, which becomes relevant in regards to Beetrooper's field Spell.
Beetrooper's Protection from the Sky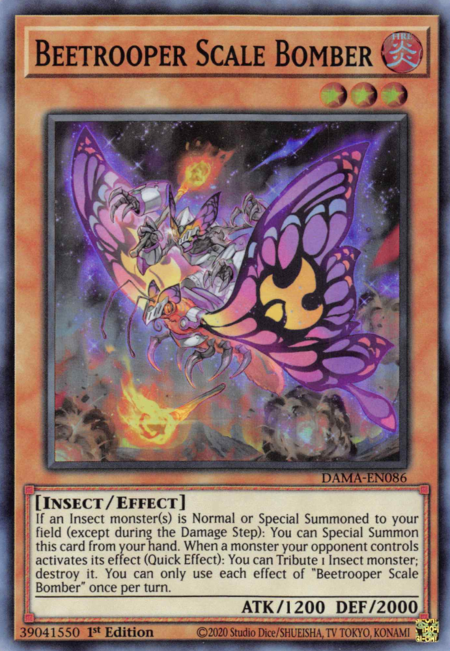 Beetrooper Scale Bomber follows the precedent of performing multiple functions by acting both as an extender and hand trap protection. Its summon condition is simple, but the applications of its second effect are great. If you so choose, you can start an Insect combo and leave Scale Bomber on the field, which can even protect you from Nibiru, the Primal Being. Otherwise, it can be turned into any Link of your choice.
An interesting application is summoning Scale Bomber with Invincible Atlas instead of summoning Scout Buggy or Sting Lancer. While it is less powerful, it adds an additional layer of protection and isn't stopped by most hand traps.
Beetrooper Big Guns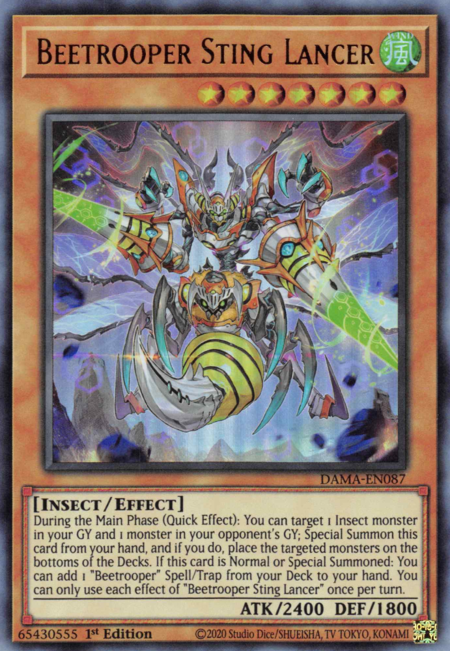 Beetrooper Sting Lancer is less flexible than its brethren, but sure packs a punch! Its first effect can be dead first turn. But considering the combo nature of the deck, it may make an appearance after you hit by a hand trap. In which case, Sting Lancer rewards you with either a negation or an extender, which are coming up.
Sting Lancer is a great target to search with Resonance Insect, since it can also disrupt plays that target cards in the GY.
Combining Forces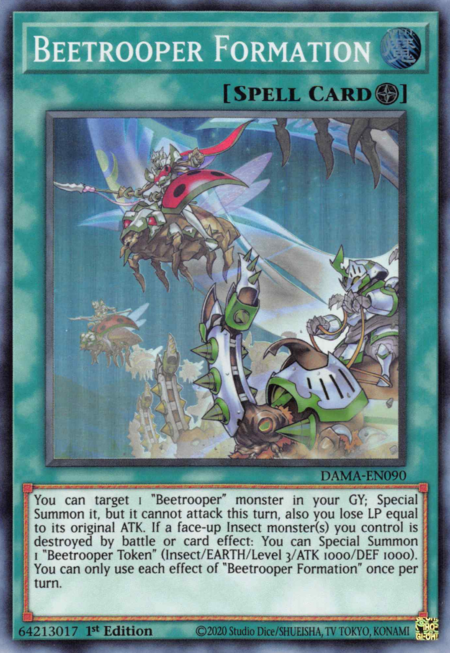 Beetrooper Formation, like most modern field Spells, act more as a regular Spell than a sweeping buff. Formation is what makes Sting Lancer so scary as an extender, since it may render a hand trap more detrimental than helpful.
Beetrooper Formation does help against disruption filled decks. Control decks tend to make the game go long. Summoning Scout Buggy from the GY for free is incredible for the cost of a few Life Points. Similarly, token generation prevents the opponent from simply destroying your Normal Summon as a way to stop your Link plays.
Fly Away Now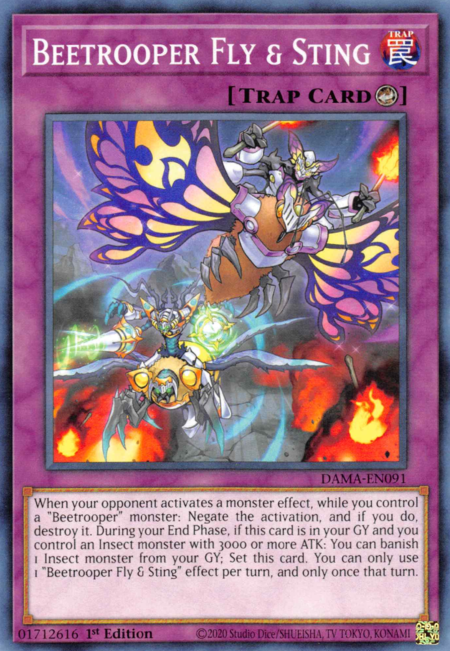 Beetrooper Fly & Sting is a unique counter trap that is the alternate search option for Sting Lancer. It doesn't have the nonchalant conditions of other counter traps like Salamangreat Roar, it is easy enough to search and play at one copy.
It is unfortunate that you cannot use it on your opponent's turn as a negation and recur it immediately. However, its effect to banish an Insect may catch the opponent by surprise. By banishing Resonance Insect, you can send Gokipole and get a surprise pop!
Conclusion
Beetroopers are well-designed in terms of game health. They have flexible effects, a straightforward gameplan that can push through disruption, but do not feel unfair. With such a powerful monster like Invincible Atlas, that both protects itself and searches a counter trap, I cannot see Beetroopers being anything less than rogue. With the inclusion of our long awaited Inzektor Spell, Beetroopers have the potential to fly even higher.