Aster Phoenix-Destiny HERO deck
Destiny HERO
"Destiny HERO" (Desutenī Hīrō) is a "HERO" sub-archetype of DARK Warrior monsters used by Aster Phoenix in the Yu-Gi-Oh! GX anime, as well as by his alternate universe counterpart in the Yu-Gi-Oh! ARC-V anime. Since their debut, they have been believed to be an antithesis to the "Elemental HERO" archetype, as specific cards somewhat resemble certain "Elemental HERO" monsters.
Aster Phoenix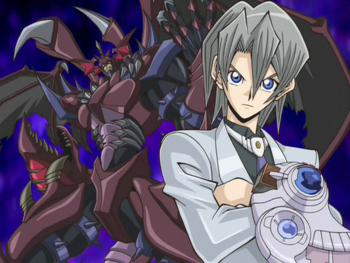 Aster Phoenix, known as Edo Phoenix in the Japanese version, and commonly romanized as Ed Phoenix, is a child prodigy, world famous, top-ranking professional Duelist. He is adored by fans around the globe, and his celebrity status has done wonders for the game by introducing it to the masses.An intelligent vigilante, Aster makes his first appearance in the second season of Yu-Gi-Oh! GX and is the anti-hero counterpart to Jaden Yuki. Though not initially caring much for Jaden and Duel Academy, Aster is sent there by his manager to defeat Jaden, succeeding in doing so. It is only after a furious Duel between Heroes and realizing that he was being deceived that Aster comes to better terms with Jaden.
An alternate universe version of Aster appears in Yu-Gi-Oh! ARC-V.