https://www.youtube.com/watch?v=rsbNv_zJ7Qw
TCG Meta Deck Representation & Breakdown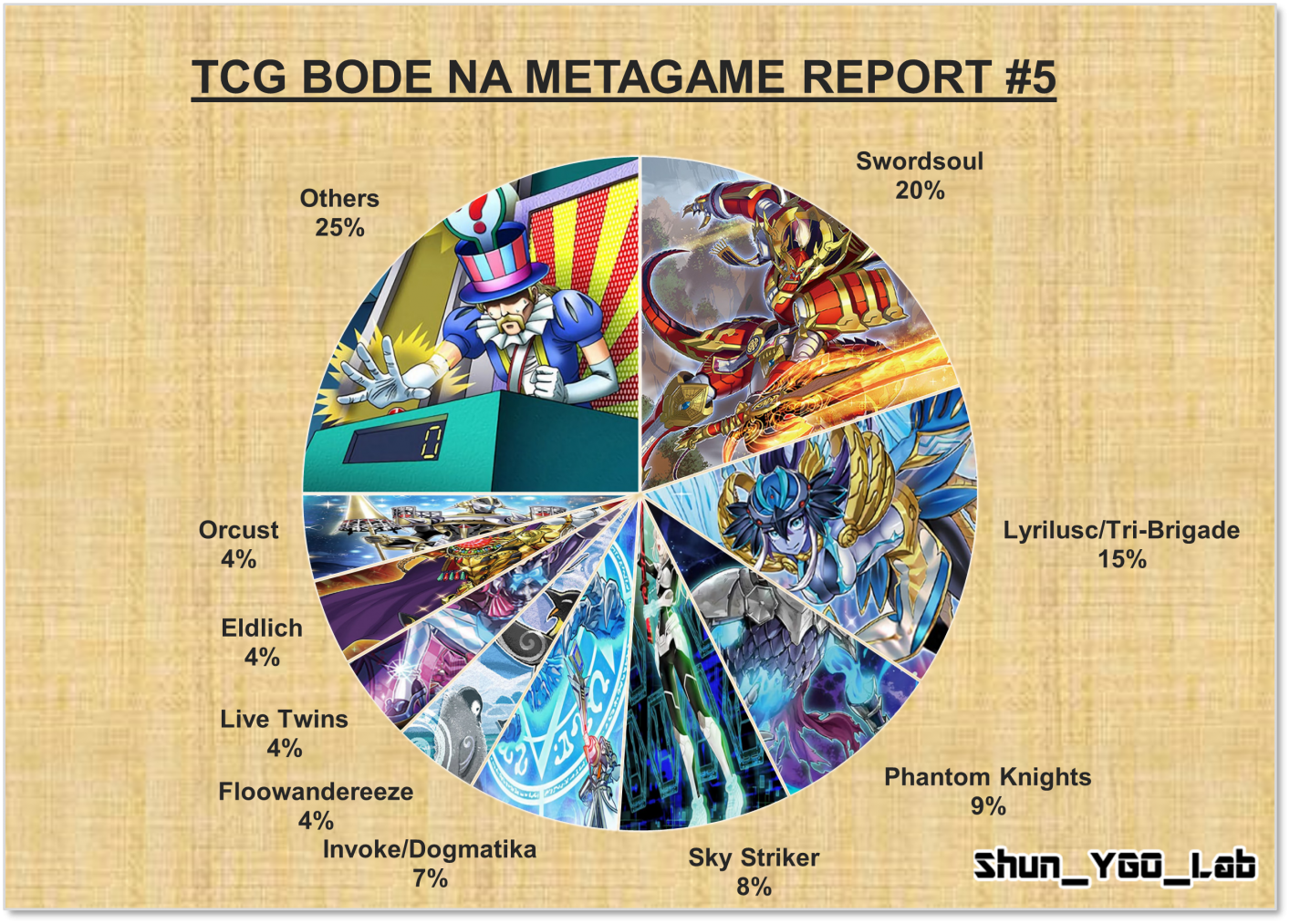 Deck Breakdown:
19 Swordsoul (15 Tenyi Swordsoul, 3 Destiny HERO Swordsoul, 1 Pure Swordsoul)
14 Lyrilusc Tri-Brigade
8 Destiny HERO Phantom Knights
8 Destiny HERO Sky Striker
7 Destiny HERO Invoked Dogmatika
4 Floowandereeze
4 Evil Twins (3 Pure Evil Twins, 1 Dogmatika Evil Twins)
4 Eldlich (2 Pure Eldlich, 1 Dogmatika Eldlich, 1 Destiny HERO Eldlich)
4 Orcust (2 Mekk-Knight Orcust, 1 Danger!? Orcust)
3 Destiny HERO Drytron
2 Prank-Kids
2 Burning Abyss (1 Pure Burning Abyss, 1 Destiny HERO Burning Abyss)
9 Others (Admancipator, Altergeist, Dragon Link, Gren Maju, Machina, Mystic Mine Burn, Pendulum Magician, 1 Destiny HERO Salamangreat, 1 Swordsoul Virtual World)
Out of the decks in this week's breakdown, roughly 39% play Destiny HERO Destroyer Phoenix Enforcer. This is almost a 10% increase compared to the last 2 weeks.
New Products
December 3, 2021 - Brothers of Legend
Deck Highlights
Tenyi Swordsoul
Tyree Tinsley placed 6th at Tables & Towers BROL Case Tournament with a 5-1-1 record. 
For this event, Tyree played the popular Tenyi variant of Swordsoul with Cyber Slash Harpie Lady and Harpie's Feather Storm. Since Swordsoul can easily summon Level 8 Synchros, Tyree uses Cyber Slash to fulfill the activation condition of Feather Storm. Feather Storm is a powerful trap that can turn off the effects of your opponent's monsters for a turn. This makes it very strong going 1st as it provides a form of counter-play against board breaking cards such as Dark Ruler No More and Forbidden Droplet. This ensures that even if you're hit by one of these, it'll still be difficult for your opponent to develop. Furthermore, Cyber Slash is also a decent Synchro by itself. Not only does it bounce one of your opponent's monsters when a Spell/Trap or effect is activated, it's also a Harpie in name which enables Feather Storm to activate from the hand.
Lyrilusc Tri-Brigade
Robert Phinazee finished 1st place at Da Planet's Remote Duel Regionals with a 4-0-1 record.
For this event, Robert played Lyrilusc Tri-Brigade featuring a new card from BROL; Wing Requital. Wing Requital is a new draw card that supports Winged-Beasts archetypes. Its activation condition requires you to control 2+ Winged-Beasts monsters. This is useful to dig for hand traps, disruptive cards, utility cards and even Side Deck cards. For example, when going 1st, Requital can dig for hand traps like Droll & Lock Bird, disruption such as Forbidden Droplet, or utility cards like Crossout Designator and Dark Ruler No More. If you're going 2nd, Requital can dig for an abundance of Side Deck cards like Lava Golem, Lightning Storm, Red Reboot, and even Dark Simorgh. This means if you're able to resolve Requital, you should be able to gain a solid grasp on that game.
Robert also chose to play 1 copy of Dark Simorgh in his Side Deck. Simorgh is an older card that prevents the opponent from setting cards. This makes it very powerful against backrow decks and control decks that rely on their traps.. Furthermore, since Simorgh is a Winged-Beast, it can be summoned through the effect of Simorgh, Bird of Sovereignty. 
Conclusion
Destiny HERO - Destroyer Phoenix Enforcer continues to be very popular and has even gained more representation in the past week. 
Many of the decks that have been doing well in the previous weeks continue to do so after the release of Brothers of Legend. While Swordsoul is still the most represented deck, Lyrilusc Tri-Brigade is a close 2nd with many other decks also in the meta. With the December Remote Duel YCS coming up soon, it'll be interesting to see how players plan on dealing with DPE and which decks prevail. 
References
Week of November 29th – December 5th 2021
Tournaments:
December 4th, 2021
December 5th, 2021
Shunping Xu
Competitive & Sponsored Player
UDS Tulsa 2020 1st Place
YCS Pasadena 2018 1st Place
YCS Las Vegas 3v3 2020 Top 8
YCS Niagra Falls 2018 Top 16
Check out my Youtube Channel where I give competitive analysis here!
Check out my Twitch Streams here!