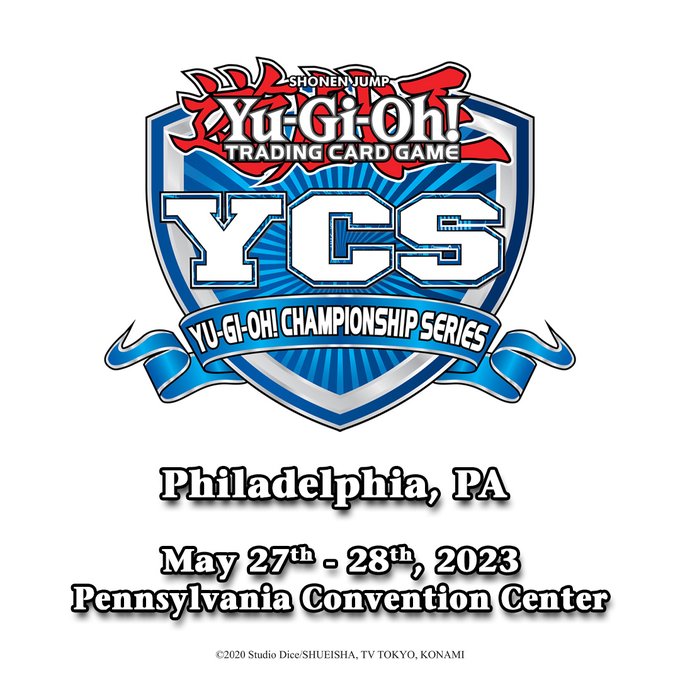 Image Source: Official Twitter of Yu-Gi-Oh! TCG
The next Yu-Gi-Oh! Championship Series will be held in Philadelphia, USA. The event will occur on May 27 - May 28, 2023, at Pennsylvania Convention Center, 1101 Arch Street, Philadelphia, USA. This is an event where Duelists from all over the world will gather to compete for exclusive prizes, gain invitations to their next World Championship Qualifier, and spend the weekend Dueling, trading, and socialising with hundreds of other Yu-Gi-Oh! Fans.
There may be some health regulations that you need to follow such as attendees 5 years and older will be required to show proof of being up to date and fully vaccinated before entry.
You can register for the Main Event during Online Registration here:
Online Registration for YCS Philadelphia
Please note that the online registration closes on May 24, 2023.
There will be a $25.00 registration fee and you will also receive five (5) booster packs.
You will also get the chance to obtain the new Pre-Registration Yu-Gi-Oh! Coin once you registered and submit your deck lists through the only system by 10.00 AM ET on May 26, 2023.
Pre-registration Yu-Gi-Oh! Coin | Image Source: Official Yu-Gi-Oh! Website
For more information, you can check here:
Life is too short to be anything but happy! - Arelios