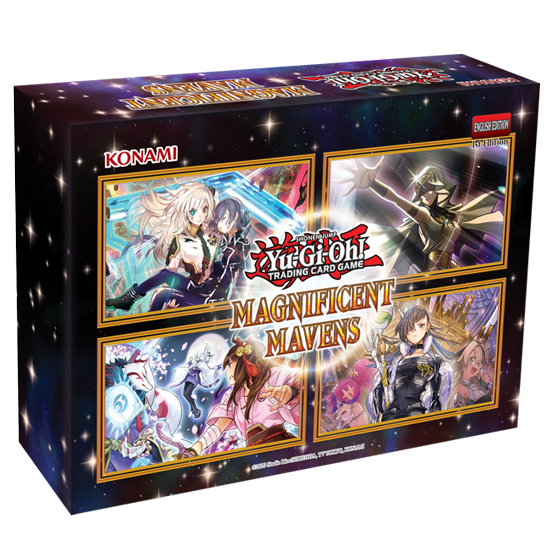 Yu-Gi-Oh! Official Account officially announced their new 2022 Holiday Box booster set, Magnificent Mavens, while being exclusively opened by some of the YouTubers. This Box set is set to release on November 4, 2022, with an MSRP of $24.99 Per Box. This set will have around 103 cards (cmiiw).
Here is more detailed info for this product:
---
Magnificent Mavens
Description:
The all-foil Ultra Rare booster set includes new cards for these 4 themes, plus dozens of cards available once again, including hot cards like Black Luster Soldier – Soldier of Chaos, Swordsoul of Mo Ye, Traptrix Sera, and Blue-Eyes Abyss Dragon.
Each box of Magnificent Mavens contains:
1 pack of 70 card sleeves (1 of 6 new sleeve designs for Sky Strikers, Mayakashis, or Witchcrafters)

4 booster packs with 5 Ultra Rare cards per pack
Select cards are also available in the Egyptian Hieroglyphic Pharaoh's Rare Ultra Rare foil style.
---
You guys can also check some of the YouTubers' exclusive videos here:
JRBjobber
Team APS Plus!
MST.TV
CyberKnight
---
What do you guys think of this product? Do you plan to open this product? I kinda like the 'gimmick' of random sleeves and it may be a great time to get some art sleeves while also having booster packs.
Comment down below to share your thoughts!
Life is too short to be anything but happy! - Arelios
News Source: Yu-Gi-Oh! Official Twitter Account (@YuGiOh_TCG)