Prank-Kids
https://youtu.be/TgiNydtVXOQ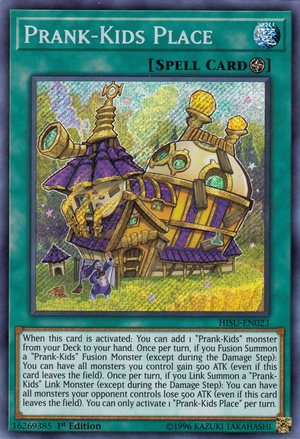 All Main Deck "Prank-Kids" monsters have effects that trigger if they are sent to the GY as Fusion or Link Materials for the Summon of a "Prank-Kids" monster, and afterwards, allow you to Special Summon from the hand or Deck a "Prank-Kids" monster with a different name than the one whose effect was activated. Their Fusion and Link Monsters each have one monster with 3000 ATK and two monsters with 2000 ATK. The ones with 3000 ATK are a Level 10 Fusion Monster and a Link-4 Link Monster, whose effects includes Tributing themselves to destroy all monsters ("Prank-Kids Battle Butler") or all Spells/Traps ("Prank-Kids Rip-Roarin-Roaster") your opponent controls. Meanwhile, those with 2000 ATK (Level 5 for Fusion Monsters and Link-2 for Link Monsters) have various effects that are usually related to battle.
All Extra Deck "Prank-Kids" monsters also have effects that recover another card(s) from the GY, either by being destroyed by the opponent's card while in your possession (those with 3000 ATK) or by Tributing themselves (the ones with 2000 ATK). The Fusion Monsters have abilities to Special Summon a monster(s) from the GY, while the Link Monsters add a card(s) to your hand from the GY instead.
"Number" (Japanese: No. Nanbāzu, "Numbers") is an archetype of Xyz Monsters that are the focus of the story in the Yu-Gi-Oh! ZEXAL anime and manga series. Each "Number" monster has a corresponding natural number included at the start of its name after "Number" (and occasionally a letter, such as C).