Alito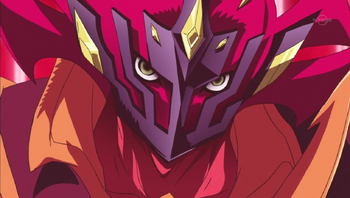 Alito (Arito) is a character appearing in the Yu-Gi-Oh! ZEXAL anime. He is an Emperor from the Barian World, working to gather the "Numbers" to prevent his world's destruction
After being injured by Ray Shadows, he was left to recover in a Baria Crystal. After being revived by the power of Don Thousand, Alito's personality became dark and he forgot his friendship with Yuma. Later, he became a puppet of Vector and Don Thousand after the latter brainwashed him. Alito was then rescued by Yuma and cooperated with him for a short time before sacrificing himself to restore Girag's memories. His soul was later taken by Vector. He is revived by the Numeron Code after Yuma and Astral's final Duel.
"Battlin' Boxer", known as "Burning Knuckler" (Bāningu Nakkurā) in Japan, is an archetype comprised of FIRE Warrior monsters used by Alito in the Yu-Gi-Oh! ZEXAL anime. Each monster is based on either boxing gear or a special boxing jargon.
"Number" (Japanese: No. Nanbāzu, "Numbers") is an archetype of Xyz Monsters that are the focus of the story in the Yu-Gi-Oh! ZEXAL anime and manga series. Each "Number" monster has a corresponding natural number included at the start of its name after "Number" (and occasionally a letter, such as C).