Monarch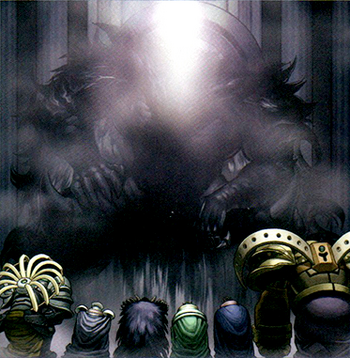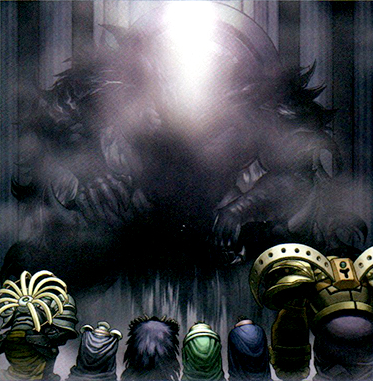 "Monarch" ( Tei), also referred to as "Emperor" in the Yu-Gi-Oh ARC-V manga, is a series in the OCG/TCG and anime, and an archetype in the manga, that is focused on Tribute Summoning. They are used by The Light Brigade members in the Yu-Gi-Oh! GX anime, Sylvio Sawatari in the Yu-Gi-Oh! ARC-V anime and manga, and by Kyoji Mikado in the Yu-Gi-Oh! ARC-V The Strongest Duelist Yuya!! manga. While a series in the OCG/TCG, the card "Dark Advance" supports the "Monarchs" as an archetype in the manga only. The "Monarchs" may be the rulers of the Duel Monsters Spirit World, due to their names.
Each of them is Level 6 (with the exception of "Zaborg", who is Level 5), has 2400 ATK and 1000 DEF and has a unique ability that activates upon its own Tribute Summon (except "Tenmataitei"), although "Kuraz the Light Monarch" and "Delg the Dark Monarch" do not require that they be Tribute Summoned or even Normal Summoned to trigger their abilities. They often have effects dealing with removing cards from the field. Each has an Attribute reflective of the element they control.
Shadow Specters introduced the "Mega Monarchs", a series of upgraded forms for each "Monarch". All "Mega Monarchs" released so far are Level 8, can be Tribute Summoned by Tributing another monster that was Tribute Summoned, and have 2800 ATK and 1000 DEF, as well as upgraded effects based on their element (e.g. "Granmarg the Mega Monarch" destroys 2 Set cards instead of one, and if Tribute Summoned by Tributing an EARTH monster, allows the player to draw a card).
Mega Monarch
Additionally, there is an archetype of "Monarch" Spell and Trap Cards (including cards like "March of the Monarchs" and "The Monarchs Erupt") that are designed to support Tribute Summons and monsters with ATK and DEF similar to "Monarch" monsters, although they often prevent Summons from the Extra Deck. Many of these cards depict the transformation of a Monarch into their Mega Monarch form, and are released in the same sets as Mega Monarchs.
"Number" (Japanese: No. Nanbāzu, "Numbers") is an archetype of Xyz Monsters that are the focus of the story in the Yu-Gi-Oh! ZEXAL anime and manga series. Each "Number" monster has a corresponding natural number included at the start of its name after "Number" (and occasionally a letter, such as C).