Cyberse
https://youtu.be/TkghIxBxQLk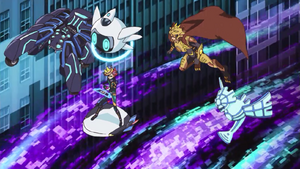 In Yu-Gi-Oh! VRAINS, the Cyberse monsters appear to be a special kind of monster related to the Cyberse World. When Yusaku used these monsters in his Duel against the Knights of Hanoi, the spectators were surprised to see him possess Cyberse monsters.[1] As stated by Varis, through currently unknown means the Knights of Hanoi had destroyed a vast amount of them to the point they believed Cyberse monsters to be extinct.
Later on, Varis reveals to Yusaku that the Cyberse cards were created by the Ignis from the Cyberse World
"Number" (Japanese: No. Nanbāzu, "Numbers") is an archetype of Xyz Monsters that are the focus of the story in the Yu-Gi-Oh! ZEXAL anime and manga series. Each "Number" monster has a corresponding natural number included at the start of its name after "Number" (and occasionally a letter, such as C).