Deck Information
Deck Type:
Anime Decks
Deck Master:
Elemental HERO Neos
TCG/OCG:
TCG
Submission Date:
September 23rd 2018
Author:
sam50
YGOPRODeck File Download
NeoSpacian
"NeoSpacian" (Neosupēshian) is an archetype of Level 3 monsters related to the "Elemental HERO" archetype which focuses on Contact Fusion with "Elemental HERO Neos". In the Yu-Gi-Oh! GX anime, the "NeoSpacians", along with their infant "Chrysalis" counterparts, were introduced by Jaden Yuki, who created the concept of these cards when he was a little boy. There are six "NeoSpacian" monsters, each with a different Attribute and Type. This theme relies on "Elemental HERO Neos" and was designed to give Jaden an alternate strategy to his "Elemental HERO" monsters. With the exception of "Neo-Spacian Aqua Dolphin", each "Neo-Spacian" monster has the same Type as its "Chrysalis" counterpart.
NEX
While the Japanese name of "NEX" is  NEX  and would appear to be part of the archetype, it is not considered a "NeoSpacian" card due to different superscripting.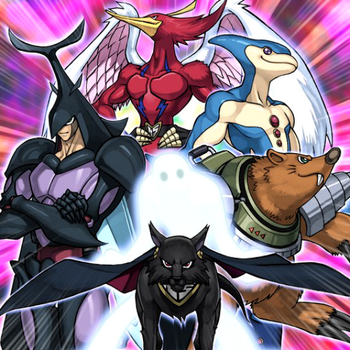 "Number" (Japanese: No. Nanbāzu, "Numbers") is an archetype of Xyz Monsters that are the focus of the story in the Yu-Gi-Oh! ZEXAL anime and manga series. Each "Number" monster has a corresponding natural number included at the start of its name after "Number" (and occasionally a letter, such as C).