Deck Information
Deck Type:
Anime Decks
Deck Master:
Daigusto Gulldos
TCG/OCG:
TCG
Submission Date:
September 24th 2018
Author:
sam50
YGOPRODeck File Download
Gusto
"Gusto", known as "Gusta" (ガスタ Gasuta) in the OCG, are a WIND-based Duel Terminal archetype released in Duel Terminal - Raid of the Inverz!!. Their name is based on the word "Gust" and their team symbol is a circle with a silver whirlwind inside it. Their Synchro Monsters seems to be the combined form of the two monsters that appear in the artworks (evidenced by their Level sum).
The archetype consists of Winged Beast, Psychic, Thunder, even Rock and Pyro-type monsters. The Winged Beast-Type contains most of the "Gusto" Tuner monsters (except "Gusto Codor" and "Gusto Griffin"), but there are exceptions ("Gusto Squirro" being Thunder-Type). All Synchro Monsters and Xyz Monsters of the archetype have "Daigusto" in their names.
The archetype's main strategy is almost entirely based on tightening their defense and loading the Graveyard, since most support for the Gusto archetype requires shuffling at least 2 or more Gusto monsters into the Deck. The Deck relies on heavy defensive tactics, beginning with its trio of searchers which form what Duelists refer to as "the recruiter loop": "Winda, Priestess of Gusto", "Gusto Gulldo" and "Gusto Egul." These three cards can continuously search one another out of the Deck when destroyed in battle while simultaneously filling the Graveyard with monsters, which can be utilized later with effects such as "Caam, Serenity of Gusto", "Pilica, Descendant of Gusto", and their Synchro Monsters as well.
Overall, Gusto Decks are naturally passive, having a resilient defensive strategy and great recycling/draw power. With the right build, however, they can surprise an unwary opponent with little effort (especially against aggressive-type and OTK-based decks).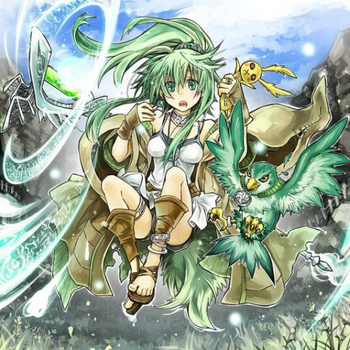 "Number" (Japanese: No. Nanbāzu, "Numbers") is an archetype of Xyz Monsters that are the focus of the story in the Yu-Gi-Oh! ZEXAL anime and manga series. Each "Number" monster has a corresponding natural number included at the start of its name after "Number" (and occasionally a letter, such as C).