This FAQ is for the deck uploader that the site is currently using.
FAQ:
Q. A name in my card list is shown as only numbers?
A. This happens when my card database does not know what the card is. This usually occurs with alt. artwork cards, anime cards, brand new cards or cards with a recently changed ID. I usually have the card added within an hour or so (with the exception of cards like anime cards). You can then edit the deck (via my-decks) to update the card list.
Q. The banner image didn't generate?
A. This issue is pretty much 95% fixed and rarely every happens anymore. It may happen if the server is under severe load. You can fix this by editing the deck here.
Q. How do I use card tooltips?
A. Highlight the card name in your editor (make sure it's the exact name of the card spelt correctly!) and simply click the "Yu-Gi-Oh! Card Tooltip" icon.
Q. None of my Anime cards show up?
A. We do not store unofficial Anime cards in our database. They will fail to show correctly when you submit the deck for upload.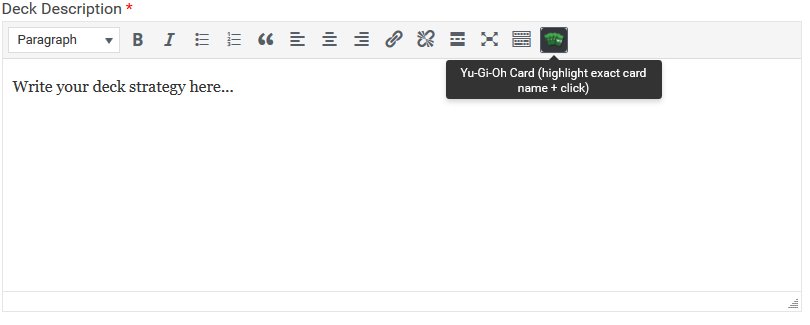 Q. How do I embed a YouTube video?
A. To embed a YouTube video, retrieve the link to the video, example (https://www.youtube.com/watch?v=FDXFZm0XM4A) and put it on it's own line in the deck description editor. Once the deck is posted, it will then be displayed under the deck description. The link must be on it's own line and cannot be hyperlinked.
Q. How do I add pictures/videos to my strategy section?
A. The site can auto-embed links. To embed a link just make sure it is on it's own line and not hyperlinked.
It can also auto-embed imgur images to your strategy. Just make sure to right click the uploaded image in imgur to get the full image URL. And again, put the link on its own line.
Q. How do I report a bug?
A. Preferably contact me on twitter here. A new forum section will go live soon to have a dedicated area to report bugs.