Blackwing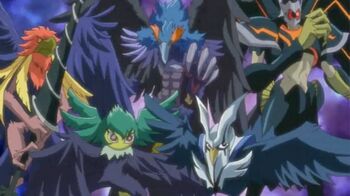 "Blackwing", known as "Black Feather" (BF Burakku Fezā) in the Japanese version, is an archetype that debuted in Crimson Crisis, used by Crow Hogan and Robert Pearson, with the former inheriting the Deck from the latter, in Yu-Gi-Oh! 5D's. They were also used in the Yu-Gi-Oh! ARC-V anime by Crow's alternate universe counterpart. All members of this archetype are DARK Winged Beast monsters, except for the following:
They are a Deck with both swarming and speed capabilities. When Crimson Crisis was released, this archetype was very unsupported, with only five "Blackwing" cards being released: "Gale the Whirlwind", "Sirocco the Dawn", "Bora the Spear", "Armor Master" and "Raptor Wing Strike". Later on, with the release of Raging Battle and Ancient Prophecy, Blackwings grew into a high swarming and powerful Deck. The speed it gives with its swarming, along with its additional Synchro Summoning capabilities, landed this Deck a place on the Shonen Jump Circuit, along with being known as one of the many Meta Decks. The Deck proceeded to win the 2009 World Championships and remained popular the following year. New "Blackwing" monsters and support were released in The Shining Darkness and Starstrike Blast, giving them alternative strategies.
As of Premium Gold: Return of the Bling, the deck's swarming capabilities and consistency have been greatly improved. With the release of Dimension of Chaos and The Dark Illusion, new "Blackwing" monsters, called "Assault Blackwings", have been introduced that gain the ability to be Tuner monsters allowing for more access to Synchro Summoning thanks to "Assault Blackwing - Onimaru the Divine Thunder" having level manipulation once Summoned. The deck functions with high amounts of speed, searching, and good hand trap situations as leaving a "Blackwing - Kalut the Moon Shadow" in hand can be used both offensively and defensively.
"Number" (Japanese: No. Nanbāzu, "Numbers") is an archetype of Xyz Monsters that are the focus of the story in the Yu-Gi-Oh! ZEXAL anime and manga series. Each "Number" monster has a corresponding natural number included at the start of its name after "Number" (and occasionally a letter, such as C).